College Admission Essays For Dummies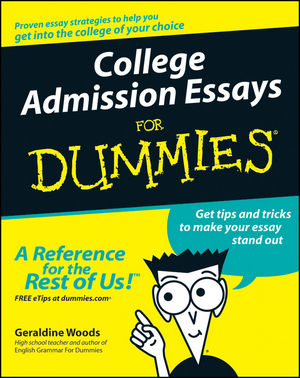 College Admission Essays For Dummies
ISBN: 978-1-118-06982-0 June 2011 336 Pages
Download Product Flyer
Download Product Flyer
Download Product Flyer is to download PDF in new tab. This is a dummy description. Download Product Flyer is to download PDF in new tab. This is a dummy description. Download Product Flyer is to download PDF in new tab. This is a dummy description. Download Product Flyer is to download PDF in new tab. This is a dummy description.
Description
The competition to get into your college of choice has never been fiercer. Unfortunately, much of the application process is out of your hands. But one major aspect of the admission process is under your control—your personal statement. Your application essay provides you with the opportunity to let your true, unique and totally irresistible self shine through.
College Admission Essays For Dummies is your total guide to crafting application essays that will make people sit up and take notice. It demystifies the authority figures who'll judge your work, helps you decide what to write, and then arms you with the knowledge and skills you need to write your essay on time and on target. Step by step, it walks you through the entire essay-writing process, offering priceless tips on how to:
Choose the best topic, tone, and structure for your essay
Capture the crucial stories that reveal who you are
Avoid common pitfalls that can sabotage your application
Overcome writer's block
Know how to respond to unusual and off-the-wall essay questions
Write successful short answers to specific application questions
College admission guru Geraldine Woods punctures common myths about application essays and tells you what you absolutely must do to write a good one. With the help of many inspiring and instructive killer essays, she shows you how to:
Put yourself in the right mental state for writing well
Gather ideas, focus on a topic and choose the best structure for your essay
Use topic sentences, detail, and strong introductions and conclusions
Write a rough draft
Show rather than tell your story
Make sure your spelling and grammar are pitch perfect
Create smooth transitions and avoid repetitions
Your college application essay is your chance to show the committee that you're more than just a statistic. Let College Admission Essays For Dummies show you how to write "admit-clinching" college essays.
Table of contents
Introduction.
Part I: Putting Yourself on Paper.
Chapter 1: Becoming More Than a Statistic: What the Essay Does for You.
Chapter 2: Exploring the Subject of the Essay — Yourself.
Chapter 3: Writing for the Tired, the Poor (The Admissions Office).
Chapter 4: Keeping It Legal.
Part II: Getting Your Head Ready for Writing.
Chapter 5: Writing as Process, Not Product.
Chapter 6: Storming Your Brain: Idea Gathering Techniques.
Chapter 7: Building a Structure to Support Your Ideas.
Chapter 8: Putting It All In Order: Creating an Outline.
Part III: Writing the Rough Draft.
Chapter 9: Showing, Not Telling Your Story.
Chapter 10: Constructing Good Paragraphs.
Chapter 11: Leading with Your Best Shot.
Chapter 12: Going Out with a Bang: The Conclusion.
Chapter 13: Overcoming Writer's Block.
Part IV: I'd Like to Finish before Retirement Age: The Final Draft.
Chapter 14: Making a List and Checking It Twice: Grammar and Spelling.
Chapter 15: Smoothing the Rough Edges: Polishing the Essay.
Chapter 16: Leaving a Good Impression.
Chapter 17: Final Answers: The Last Word on Format.
Part V: Analyzing Questions from Real Applications.
Chapter 18: Composing Essays Starring You.
Chapter 19: Describing Significant Strangers and Friends: Essays About Other People.
Chapter 20: Responding to Essay Questions in the Subject Areas.
Chapter 21: Getting the Most Out of Short Answers.
Part VI: The Part of Tens.
Chapter 22: Ten Myths About the College Essay.
Chapter 23: Ten Great Essays to Inspire You.
Chapter 24: Ten Absolute Musts for College Essays.
Appendix: Personal Inventory.
Index.