College Algebra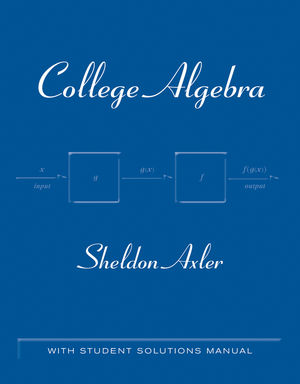 College Algebra
ISBN: 978-0-470-47078-7
May 2017
528 pages
Description
College Algebra, First Edition will appeal to those who want to give important topics more in-depth, higher-level coverage. This text offers streamlined approach accompanied with accessible definitions across all chapters to allow for an easy-to-understand read. College Algebra contains prose that is precise, accurate, and easy to read, with straightforward definitions of even the topics that are typically most difficult for students.
Depth, Not Breadth: Topics have been carefully selected to get at the heart of algebraic weakness by narrowing down to key sets of skills which are regularly revisited from varied perspectives.
Exercises and Problems: The difference between an exercise and a problem is that each exercise has a unique correct answer that is a mathematical object such as a number or a function, while the solutions to problems consist of explanations or examples. The solutions to the odd-numbered exercises appear directly behind the relevant section.
Variety: Exercises and problems in this book vary greatly in difficulty and purpose. Some exercises and problems are designed to hone algebraic manipulation skills; other exercises and problems are designed to push students to genuine understanding. Applications are written to reflect real scenarios, not artificial examples.
Integrated Student's Solutions Manual: The solutions manual encourages students to read the main text and students will save money by not having to purchase a separate solutions manual.
Designed To Be Read: The writing style and layout are meant to induce students to read and understand the material. Explanations are more plentiful than typically found in College Algebra books, with examples of concepts making the ideas concrete whenever possible.
Calculator Problems: A symbol appears next to problems that require a calculator; some exercises and problems are designed to make students realize that by understanding the material, they can overcome the limitations of calculators.