College Completion for Latino/a Students: Institutional and System Approaches: New Directions for Higher Education, Number 172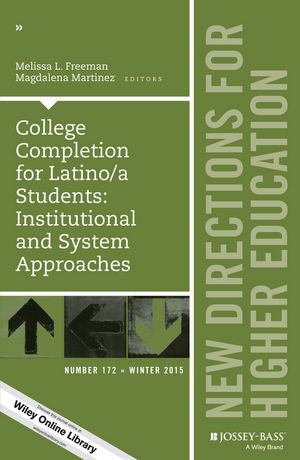 College Completion for Latino/a Students: Institutional and System Approaches: New Directions for Higher Education, Number 172
ISBN: 978-1-119-19375-3 December 2015 Jossey-Bass 120 Pages
Description
Latino/as are the fastest growing demographic in the United States. Despite recent gains in postsecondary enrollment, the Latino/a population is severely underrepresented when it comes to baccalaureate attainment. Hispanic-serving institutions (HSIs) will play a critical role in turning the tide, but there is little existing research about these institutions.
This volume synthesizes:
Existing research on HSIs, emerging HSIs, as well as research about Latino/a students themselves,
A wide range of best practices across institutional types, and
Examples of service to undocumented students in states where they do and do not quality for in-state tuition benefits.
Topics include Latino/a undergraduate student success, graduate student success, community colleges, four-year institutions, financial aid, and undocumented students.
This is the 172nd volume of the Jossey-Bass quarterly report series New Directions for Higher Education. Addressed to presidents, vice presidents, deans, and other higher education decision makers on all kinds of campuses, it provides timely information and authoritative advice about major issues and administrative problems confronting every institution.
Table of contents
EDITORS' NOTES 1
Melissa L. Freeman, Magdalena Martinez
1. HEALing Higher Education: An Innovative Approach to Preparing HSI Leaders 7
Melissa L. Freeman
This chapter is a case study of the Higher Education Administration and Leadership (HEAL) program at Adams State University. The goal of the HEAL program is to prepare the next generation of leaders for the nation's Hispanic-serving institutions.
2. An Examination of Organizational Change Through Nevada's Emerging Hispanic-Serving Institutions 19
Magdalena Martinez
There is limited research on how postsecondary institutions prepare to become HSIs. This chapter examines organizational change through a group of emerging HSIs and their governance, policy, and leadership.
3. Cultivating Campus Environments to Maximize Success Among Latino and Latina College Students 29
Judy Marquez Kiyama, Samuel D. Museus, Blanca E. Vega
Many Latino/as attend predominantly White institutions (PWIs). The Culturally Engaging Campus Environments (CECE) Model is offered as a framework from which PWIs can create supportive environments for Latino/as.
4. Institutionalizing Support for Undocumented Latino/a Students in American Higher Education 39
Ryan Evely Gildersleeve, Darsella Vigil
This chapter investigates the institutionalization of support for undocumented students across states that either extend or deny in-state resident tuition (ISRT) benefits. In their review, the authors highlight promising practices.
5. "A pesar de todo" (Despite Everything): The Persistence of Latina Graduate Engineering Students at a Hispanic-Serving Institution 49
Sandra Aguirre-Covarrubias, Eduardo Arellano, Penelope Espinoza
The authors discuss a mixed-methods study of factors that affected persistence of Latina graduate engineering students at a Hispanic-serving institution. The study's findings and recommendations will be useful to HSIs and other colleges and universities.
6. Latino Male Ethnic Subgroups: Patterns in College Enrollment and Degree Completion 59
Luis Ponjuan, Leticia Palomin, Angela Calise
This chapter examines Latino male ethnic subgroups and their college enrollment and degree completion patterns. The chapter also offers recommendations to improve Latino male ethnic subgroups' educational achievement.
7. Increasing College Completion for Latino/as in Community Colleges: Leadership and Strategy 71
Kenneth P. Gonz´ alez
This chapter discusses college completion for Latino/as who attend community colleges and the role of leadership in promoting completion. The chapter also provides a number of lessons for success drawn from the national initiative, Achieving the Dream.

8. Financial Aid in Hispanic-Serving Institutions: Aligning Resources with HSI Commitments 81
Kristan M. Venegas
This chapter reviews the literature related to Hispanic-serving institutions and financial aid. Based on this review, the author suggests a framework for guiding HSIs that considers the role of financial aid in meeting the needs of Latino/a students.
9. Lucha Libre and Cultural Icons: Identity Formation for Student Success at HSIs 91
Nicholas D. Natividad
This chapter examines the importance of culturally relevant imagery and representation and identity development curriculum for college students. It calls for higher education institutions to embrace cultural strengths as an asset rather than a deficit.
10. Moving Forward: Future Directions for Improving Institutional Support for Latino/a Students 103
Caitlin J. Saladino, Magdalena Martinez
This chapter synthesizes the authors' recommendations for academics and practitioners as colleges and universities prioritize institutional policies and programs to ensure Latino/a student success.
INDEX 109