College Sex - Philosophy for Everyone: Philosophers With Benefits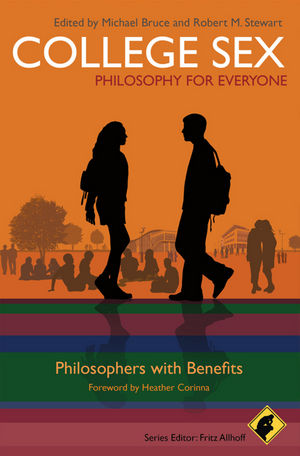 College Sex - Philosophy for Everyone: Philosophers With Benefits
ISBN: 978-1-444-34144-7
Jan 2011, Wiley-Blackwell
256 pages
Description
Written with insight and humor, College Sex - Philosophy for Everyone investigates a broad array of philosophical issues relating to student sex.
Examines the ethical issues of dating, cheating, courtship, homosexual experimentation, and drug and alcohol use
Considers student-teacher relationships, sexual experimentation, the meaning of sex in a college setting and includes two essays based on influential research projects on 'friends with benefits'
Many of the authors teach classes that explore the philosophy of love and sex, and most are scholars from the Society of the Philosophy of Sex and Love
Foreword (
Heather Corinna
).
Acknowledgments (Michael Bruce and Robert M. Stewart).
Campus Orientation: An Introduction to College Sex – Philosophy for Everyone (Michael Bruce and Robert M. Stewart).
PART I FRESHMAN YEAR: Hook-Up Culture.
1 Sex and Socratic Experimentation (Sisi Chen and George T. Hole).
2 The Straight Sex Experiment (Bassam Romaya).
3 The Virtual Bra Clasp: Navigating Technology in College Courtship (Michael Bruce).
4 Smeared Makeup and Stiletto Heels: Clothing, Sexuality, and the Walk of Shame (Brett Lunceford).
5 Relations at a Distance (Bill Puka).
PART II SOPHOMORE YEAR: Friends With Benefits.
6 What's Love Got to Do with It? Epicureanism and Friends with Benefits (William O. Stephens).
7 Friends with Benefits: A Precarious Negotiation (Timothy R. Levine and Paul A. Mongeau).
8 The Philosophy of Friends with Benefits: What College Students Think They Know (Kelli Jean K. Smith and Kelly Morrison).
PART III JUNIOR YEAR: Ethics of College Sex.
9 A Horny Dilemma: Sex and Friendship between Students and Professors (Andrew Kania).
10 Philosophers and the Not So Platonic Student-Teacher Relationship (Danielle A. Layne).
11 Thinking About Thinking About Sex (Ashley McDowell).
12 Exploring the Association Between Love and Sex (Guy Pinku).
13 Sex for a College Education (Matthew Brophy).
PART IV SENIOR YEAR: Sex and Self-Respect.
14 Meaningful Sex and Moral Respect (Robert M. Stewart).
15 Can Girls Go Wild With Self-Respect? (John Draeger).
16 Mutual Respect and Sexual Morality: How to Have College Sex Well (Yolanda Estes).
17 Bad Faith or True Desire? A Sartrean View on College Sex (Antti Kuusela).
Notes on Contributors.
"Overall then, College Sex is a valuable collection. Most readers will want to skip and dip around the essays, looking for those that are most helpful to them. Many of the essays are not traditional philosophical approaches, but the use of communications and psychology scholarship in the book fits well with the philosophical discussion. Furthermore, the level of the writing is pitched well for lower level undergraduate courses in the philosophy of sex love: I plan to use some of the chapters here for my future courses." (Metapsychology, 31 May 2011)
"You actually get something from it. Rather than a textbook in a class that you read and forget almost instantaneously, College Sex forces you to see sex from a more objective perspective - you'll soon be asking questions regarding your own sex life and how good and healthy it actually is." (Her Campus, September 2010)
"The sex and philosophy combo might seem like a peculiar mix, but as you flip and through the book's sections (freshman year, sophomore year, junior year and senior year), it's plausible to see how Socrates, Nietzsche, Aristotle and sex are closely connected with one another." (Campus Circle, 25 August 2010)