Colloids and Interface Science Series, 6 Volume Set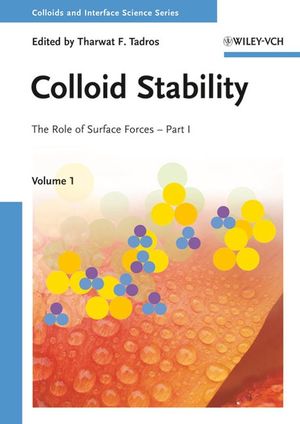 Colloids and Interface Science Series, 6 Volume Set
ISBN: 978-3-527-31461-4 August 2010 2000 Pages
Description
The first modern approach to relate fundamental research to the applied science of colloids, these six volumes are edited by the 'l'eminence grise' on the topic with contributions from THE top scientists in their respective fields.
The first two volumes cover the role of surface forces, while the third looks at colloid stability and its application in pharmacy. Volume 4 deals with applications in personal care and cosmetics, while the last two volumes cover colloids in agrochemicals and in paints and coatings.
An invaluable reference for surface, physical and polymer chemists, materials scientists, and chemical engineers.
VOLUME 1
COLLOID STABILITY -
THE ROLE OF SURFACE FORCES (Part I)

VOLUME 2
COLLOID STABILITY -
THE ROLE OF SURFACE FORCES (Part II)

VOLUME 3
COLLOID STABILITY AND APPLICATION IN PHARMACY

VOLUME 4
APPLICATIONS IN PERSONAL CARE AND COSMETICS

VOLUME 5
COLLOIDS IN AGROCHEMICALS

VOLUME 6
COLLOIDS IN PAINTS AND COATINGS
About the editor:

"Dr. Tadros is a very well recognized individual in the surface chemistry community and is known to write well."
(Prof. Krister Holmberg, Chalmers University, Göteborg, Sweden)

"The author is a well-known scientist in this field with a long experience in colloid science."
(Henkel KGaA, Düsseldorf, Germany)

"Dr. Tadros is well-known in the field of colloid science. High quality can be expected."
(University of Bayreuth, Germany)

"Professor Tadros is a well-known expert on the topic. Because of his industrial experience it might be possible to close the gap between fundamentals and the relevance and applications in the practice."
(Dr. Oetter, BASF AG, Ludwigshafen, Germany)

"Dr. Tadros is a well-known scientist in emulsion and rheology science who can write about fundamentals and applications of surfactants."
(Yokohama National University, Japan)