Colloids and Interfaces with Surfactants and Polymers: An Introduction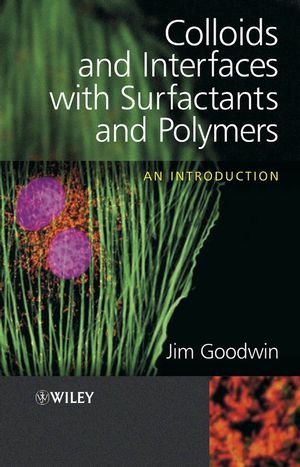 Colloids and Interfaces with Surfactants and Polymers: An Introduction
ISBN: 978-0-470-09391-7 July 2004 296 Pages
Description
This text is both an introduction to the field and a bridge to the more specialist texts that are available, and includes recent ideas that have been developed on the interactions between particles and the concentrated state. It covers the fundamentals of colloid and interface science, placing emphasis on concentrated systems and the ideas associated with them.
 Takes a user-friendly, non-mathematical approach

Includes the widely used techniques such as rheology in greater depth than other introductory texts
Gives many practical examples of colloid and interface science
Provides guidance on how to apply new ideas to a number of different systems
Preface.
Chapter 1. The Nature of Colloids.
Chapter 2. Macromolecules and Surfactants.
Chapter 3. Interactions between Colloid Particles.
Chapter 4. Forces of Repulsion.
Chapter 5. The Stability of Dispersions.
Chapter 6. The Wetting of Surfaces by Liquids.
Chapter 7. Emulsions and Microemulsions.
Chapter 8. Characterisation of Colloidal Particles.
Chapter 9. Concentrated Dispersions.
Index.
"…does a great job introducing a lot of complex concepts in a very concise, dense, and clearly written way." (
Polymer News
)
"...an excellent introduction...uses a that will appeal to many industrialists...certainly recommend the book..." (Chemistry & Industry, 19 April 2004)
"...accessible and readable book...a significant achievement...good value for money..." (Chemistry World, May 2004)
"…ideal for beginners to this specialised field who are in industry". (Materials World, September 2004)
"…both an introduction to the field and a bridge to the more specialized texts… summarized in an accessible fashion…" (Polymer International, Vol.53, No.11 November 2004)
"I would definitely recommend this book to my students and to everyone who is interested in the fascinating science of colloids". (Applied Organometallic Chemistry, March 2005)
Covers the fundamentals of colloid and interface science

Places emphasis on concentrated systems and the ideas associated with them

Includes the widely used techniques such as rheology in greater depth than other introductory texts

Gives many practical examples of colloid and interface science

Takes a user-friendly, non-mathematical approach