Colonial American History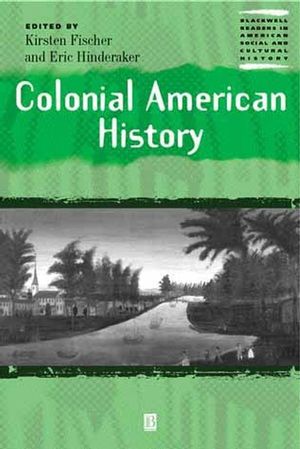 Colonial American History
ISBN: 978-0-631-21853-1 March 2002 Wiley-Blackwell 408 Pages
Description
This carefully collected volume of eight essays and 24 supporting documents allows access to the best and latest scholarship on mainland British North America. This book demonstrates how differences in race, ethnicity, gender, and social status were continuously negotiated throughout England's North American colonies.
Series Editor's Preface.
Notes on Contributors.
Acknowledgments.
A Note on the Texts.
Introduction.
1. First Encounters:.
Introduction.
Article:.
King Philip's Herds: Indians, Colonists, and the Problem of Livestock in Early New England: Virginia DeJohn Anderson.
Documents:.
Reasons to be Considered for ... the Intended Plantation in New England (1629): John Winthrop.
Treaty between the Abenaki Indians and the English at Casco Bay (1727).
Indian Explanation of the Treaty of Casco Bay (1727): Loron Sauguaarum.
Further Reading.
2. Puritan Culture:.
Introduction.
Article:.
A World of Wonders: David D. Hall.
Documents:.
A Model of Christian Charity (1630): John Winthrop.
Trial of Mrs Lucy Brewster at a Court Held at Newhaven (1646): Charles J. Hoadly.
Tryal of Susanna Martin in Salem (1692).
Further Reading.
3. Making Race:.
Introduction.
Article:.
From "Foul Crimes" to "Spurious Issue": Sexual Regulation and the Social Construction of Race: Kathleen M. Brown.
Documents:.
Letter to his Parents (1623): Richard Frethorne.
Virginia Slave Codes (1661–1705): William Waller Henning.
Petition against Zachareah Jordan (1783): Ruth Tillett.
Further Reading.
4. Africa Diaspora:.
Introduction.
Article:.
Time, Space, and the Evolution of Afro-American Society on British Mainland North America: Ira Berlin.
Documents:.
A New and Accurate Description of the Coast of Guinea (1705): William Bosman.
The Carolina Chronicle of Dr. Francis Le Jau (1706–1717): Francis Le Jau.
A Narrative of the Life and Adventures of Venture, A Native of Africa, But Resident above Sixty Years in the Unites States of America (1700s): Venture Smith.
Further Reading.
5. European Immigration:.
Introduction.
Article:.
Worlds in Motion: Bernard Bailyn.
Documents:.
The Infortunate: The Voyage and adventures of William Moraley, an Indentured Servant (1743): William Moraley.
Journey to Pennsylvania (1754): Gottlieb Mittelberger.
Informations Concerning the Province of North Carolina (1700s): Scotus Americanus.
Further Reading.
6. Awakening:.
Introduction.
Article:.
"Pedlar in Divinity": George Whitfield and the Great Awakening, 1737–1745: Frank Lambert.
Documents:.
The Spiritual Travels of Nathan Cole (1741): Nathan Cole.
A Letter ... to Mr. George Wishart (1742): Charles Chauncy.
The Distinguishing Marks (1741): Jonathan Edwards.
Further Reading.
7. Creating Gentility:.
Introduction.
Article:.
Bodies and Minds: Richard Bushman.
Documents.
Autobiography and Other Writings (1790): Benjamin Franklin.
Gentleman's Progress: The Itinerarium of Dr. Alexander Hamilton (1744): Alexander Hamilton.
American Weekly Mercury (Philadelphia), no. 575 (Jan. 5, 1730/1): Generosa (Elizabeth Magawley).
Further Reading.
8. Backcountry Worlds:.
Introduction.
Article:.
New Worlds for All: Indian America by 1775: Colin Calloway.
Documents:.
The Carolina Backcountry on the Eve of the Revolution: The Journal and Other Writings of Charles Woodmason, Anglican Itinerant (1766–8): Charles Woodmason.
On Behalf of the Ohio Delawares, Munsies, and Mohicans, to the Governors of Pennsylvania, Maryland, and Virginia (December 4, 1771): John Killbuck.
A Journal of Two Visits made to Some Nations of Indians on the West Side of the River Ohio, in the Years 1772 and 1773: David Jones.
Further Reading.
Index.
"Here we have eight eminently discussible articles, each one matched with three substantial, thoughtfully edited primary sources, and introductory notes that invite rather than inhibit analysis. Who could ask for more? A superb reader."
Fred Anderson, University of Colorado at Boulder
<!--end-->
"A deft, highly satisfying collection of original sources and trenchant scholarship that gets to the heart of colonial experience in early America." Jon Butler, Yale University


Includes 8 essays and 24 supporting documents representing the most important recent scholarship on the history of British Colonial America.


Features essays on Native Americans, the transatlantic slave trade, the rise of gentility, regulation of the sexual behavior of both white and black women, and the creation of new religious practices.


Unified by both a general introduction and chapter introductions.