Colonial Days: Discover the Past with Fun Projects, Games, Activities, and Recipes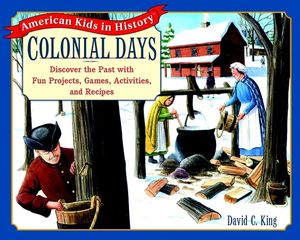 Colonial Days: Discover the Past with Fun Projects, Games, Activities, and Recipes
ISBN: 978-0-471-16168-4
Dec 1997, Jossey-Bass
128 pages
Description
Over 40 fun, hands-on projects and activities from the days of colonial America

Spend a year with the Mayhews, a family living in the Massachusetts colony of 1732. Ten-year-old Nathan and his twelve-year-old sister, Sarah, are eager to share all the fun and adventure--and the hard work--of their daily lives. Along the way, they'll show you how to play games, make toys and crafts, and perform lots of interesting and challenging everyday activities.

Churn your own butter and whip up a batch of tasty Maple Cream treats. Write with a quill pen you can make yourself, learn how to dip candles, and play popular games like Jackstraws, Crack the Egg, and Sheep Over the Fence.

Colonial Days is filled with interesting historical information and fun facts about growing up in days gone by. Discover how different--and how similar--life was for American kids in history.
Spring.

Summer.

Autumn.

Winter.

Glossary.

Bibliography.

Index.
The variety and number of projects give ample possibilities for finding ideas that fit your children's interests and suit your level of hands-on experience. (EclecticHomeschool.org, 06/03/2008)