Color, Environment, and Human Response: An Interdisciplinary Understanding of Color and Its Use as a Beneficial Element in the Design of the Architectural Environment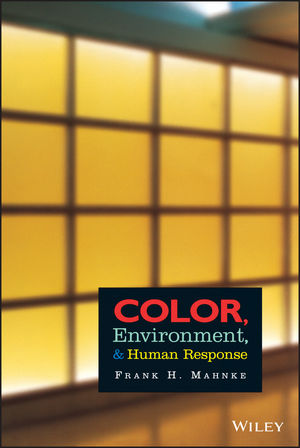 Color, Environment, and Human Response: An Interdisciplinary Understanding of Color and Its Use as a Beneficial Element in the Design of the Architectural Environment
ISBN: 978-0-471-28667-7
Apr 1996
248 pages
Description
Written for architects, interior designers, and color consultants, this ambitious study explores the psychological and physiological effects of color in the man-made environment. Scientific findings and industry-by-industry examples are furnished to help professionals specify colors that will create healthful environments in hospitals, schools, restaurants, and other public facilities.
What Is Color?: An Introduction from the Psychological Viewpoint.

Psychophysiological Effects.

Psychosomatrics, Emotions, and Design.

Characteristics and Effects of Major Hues.

Those Achromatic Environments.

Color Fundamentals.

Vision and Light.

Biological Effects of Light.

Analysis and Establishment of Design Goals.

Offices and VDT Computer Workstations.

Health Care Facilities.

Mental Health Centers and Psychiatric Hospitals.

Industrial Work Environments.

Schools.

Food and Foodservice.

Color for Exteriors.

A New Role and Challenge.

Appendix.

Bibliography.