Color Atlas of Local and Systemic Manifestations of Cardiovascular Disease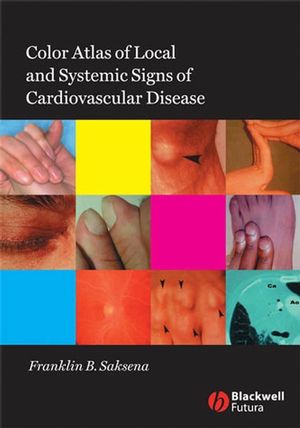 Color Atlas of Local and Systemic Manifestations of Cardiovascular Disease
ISBN: 978-0-470-69161-8 April 2008 Wiley-Blackwell 128 Pages
Description
This brief guide to visual diagnosis helps the novice develop -- and the veteran refresh -- crucial skills that can spare the patient unnecessary testing and bring the physician one step closer to an accurate diagnosis.


Dr Saksena draws on his years of experience in teaching and training to show you the physical signs of cardiovascular disease that can be spotted by visual examination. For each sign, a color photograph is paired with explanatory text that:



describes the significant features of the sign

explains its use in diagnosis

identifies the likeliest causes
The book provides corroboration of physical signs and other diagnostic information whenever possible and offers extensive references for further study.

After an opening chapter on general observations, the author describes signs that can be found in the face, ear, mouth and nose, neck, hand, upper extremity, thorax and back, abdomen, and lower extremity. An appendix covers rarer syndromes associated with cardiovascular disease.

Whether you are just developing your diagnostic skills or want to be better able to identify signs of cardiovascular disease, you can count on this atlas for dependable advice.
About the author.
Preface.
Photographic credits.
Acknowledgments.
Chapter 1 General observations.
Chapter 2 Face.
Chapter 3 Ear.
Chapter 4 Mouth and nose.
Chapter 5 Neck.
Chapter 6 Hand.
Chapter 7 Upper extremity.
Chapter 8 Thorax and back.
Chapter 9 Abdomen.
Chapter 10 Lower extremity.
Appendix: Rarer syndromes associated with.
cardiovascular disease.
Synopsis.
References.
Index
"This is an interesting and, in many ways, an exciting book for those interested in identifying the physical examination signs associated with cardiovascular disease." (Doody's, April 2009)
● A concise reference by an award-winning teacher aiding the development of skills in physical diagnosis of cardiovascular disease
● Colour photographs accompanied by explanatory text describe each physical sign, use in diagnosis, and some of its likeliest causes
● Provides corroboration of physical signs and other diagnostic information whenever possible
● Extensive references