Color Confidence: The Digital Photographer's Guide to Color Management, 2nd Edition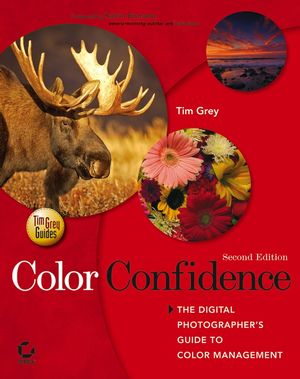 Color Confidence: The Digital Photographer's Guide to Color Management, 2nd Edition
ISBN: 978-0-470-04822-1
Jul 2006
256 pages
Description
Color Confidence is a practical, results-oriented book that gives photographers the knowledge they need to manage color effectively from capture to output. Digital imaging expert Tim Grey designed this book for busy photographers who want to get results without wading through tons of information about color science—-distilling the most important concepts into real-world use. He teaches only the theory that photographers must know to understand how color management works, and focuses on the practical information they need to make decisions when working with their images: the actual processes that achieve the best results possible.

In this new edition of the very first practical guide to color management, readers will find out how to quickly get predictable color results across all devices--from cameras, monitors, and printers, to scanners and raster image processors (RIPs). Updated with new information on Photoshop, RIP technology, and calibration, this results-oriented book is a must for all serious photographers.
Introduction.
Chapter 1: Foundations provides a foundation in color theory that will help you better understand color, how it is produced, and how color management works.
Chapter 2: Photoshop Setup helps you configure Photoshop properly and shows you what the various dialog boxes and warning messages mean.
Chapter 3: Display guides you through the process of selecting an appropriate monitor, as well as the process of calibrating and profiling that monitor.
Chapter 4: Scanning shows you the features to look for in a film scanner and demonstrates how to produce the best scans possible, including the use of custom scanner profiles.
Chapter 5: Digital Capture details the various options available for producing the most accurate color in your digital captures.
Chapter 6: Optimization offers techniques for getting the best color in your images using Photoshop, so that you can produce exactly the colors you are trying to achieve in your images.
Chapter 7: Output demonstrates the methods available to produce prints that match your monitor, the "Holy Grail" of color management.
Chapter 8: Workflow puts all the color management pieces together, providing a summary of the basic process involved in putting color management to work for you.
""...a must-have for the successful imageer..."" (Advanced Photoshop, July 2006)