Combining Images with Photoshop Elements: Selecting, Layering, Masking, and Compositing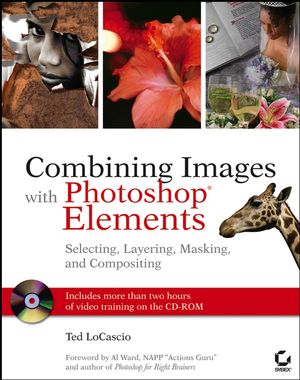 Combining Images with Photoshop Elements: Selecting, Layering, Masking, and Compositing
ISBN: 978-0-470-07301-8
Sep 2006
268 pages
Product not available for purchase
Description
If you thought Photoshop Elements was just for correcting and organizing photographs, this book will turn your head around. It opens up a whole new set of creative possibilities to explore as you learn how to combine images using this versatile program.""
—Jan Kabili, author and trainer

Create your own visual composite masterpieces

Combine your digital photos with an artist's flair and create dazzling composites, thanks to Photoshop Elements and this comprehensive guide from an industry expert. Using great photography and expert design sense, author Ted LoCascio clearly shows how it's done, from simple tasks such as swapping an image background, to more advanced ones such as creating an abstract photomontage.

Loaded with fresh ideas, the book mixes clear and helpful narrative instruction, step-by-step tutorials, and hands-on video demonstrations providing the coverage you need to create sophisticated, even gallery-ready compositions.

Inside you'll find:
In-depth coverage of how to swap, combine, replace, and mix pictureelements to get the most stunning digital images possible
Over 150 full-color printed photos and more than two hours of video training on the companion CD, so you can see exactly how it's done
Discover how to:
Use layers effectively, including adding effects, adjusting opacity and blend, and combining layers
Make use of filters, styles, and textures for added pizzazz
Apply masks, including using neutral layer masks, combining multiple exposures, and masking with Camera RAW files
Build a keepsake wedding montage and an abstract photo collage
www.sybex.com
Note: CD-ROM/DVD and other supplementary materials are not included as part of eBook file.
Introduction.
Chapter 1: It All Starts with an Idea.
The Creative Process.
Telling Your Story.
Getting Inspired.
Staying Inspired.
Gathering Images.
The Power of Observation.
Image Resources.
Understanding Resolution.
Pixel Logic.
What's My Resolution?
RGB Color Mode.
Color Settings.
Converting Profiles.
Chapter 2: Making Good Selections.
Defining "Good" Selections.
The Selection Border.
The Tools Palette.
The Marquee Tools.
The Rectangular Marquee.
The Elliptical Marquee.
The Lasso Tools.
The Lasso Tool.
The Magnetic Lasso Tool.
The Polygonal Lasso Tool.
The Selection Brush.
Magic Selection Tools.
The Magic Wand.
The Magic Eraser.
The Magic Selection Brush.
The Magic Extractor.
The Background Eraser.
Chapter 3: Modifying Selections.
Adding and Subtracting.
Keystroke Modifiers.
The Expand/Contract Commands.
The Grow/Similar Commands.
The Selection Brush.
Changing a Selection's Edge.
Border.
Smooth.
Feather.
Invert.
Saving and Loading Selections.
Chapter 4: Mastering Layers.
Defining Layer Types.
Image Layers.
Effect Layers.
Layer Control.
Controlling Layer Visibility.
Selecting Multiple Layers.
Linking and Unlinking.
Locking and Unlocking.
Adding Image Layers.
Creating New Layers.
Naming Layers.
Layer Navigation.
Adding Effect Layers.
Adding Fill Layers.
Adding Adjustment Layers.
Managing Layers.
Merging and Flattening Layers.
Deleting Unused Layers.
Chapter 5: The Power of Opacity and Blending.
Adjusting Layer Opacity.
Examples: Creating Shadows and Softening Focus.
Applying Blend Modes.
A Quick Tour of the Blend Modes.
Example: Interactive Blend Modes.
Chapter 6: Compositing with Masks.
What Is a Mask?
Black Conceals, White Reveals.
Clipping Masks and Groups.
Blending with Masks and Groups.
Filling Selections in a Layer Mask.
Feathering Layer Masks.
Gradient Blending with Layer Masks.
Painting in Layer Masks.
Vector-Based Clipping Masks.
Type Masks.
Shape Masks.
Chapter 7: Advanced Masking with Camera RAW.
Working with Camera RAW Files.
Defining Camera RAW.
The Camera RAW Dialog.
Combining Shadow/Highlight Information.
Combining Color Temperature.
Chapter 8: Adding Filters, Styles, and Effects.
Filters and the Filter Gallery.
A Word of Warning.
Applying Filters.
The Filter Gallery.
Layer Styles.
Applying Styles.
Editing Styles.
Copying Styles.
Clearing Styles.
Simplifying Layers.
Effects.
Applying Effects.
Example: Altering Image Effects.
Example: Textures and Type Masks.
Framing Your Final Image.
Exercise: Creating a Custom Frame.
Index.
""Clear...easy-to-follow...you...gain a greater knowledge of what makes a good composition...improve your understanding of the app's tools."" (Photoshop Creative, September 2006)