Comebacks: Powerful Lessons from Leaders Who Endured Setbacks and Recaptured Success on Their Terms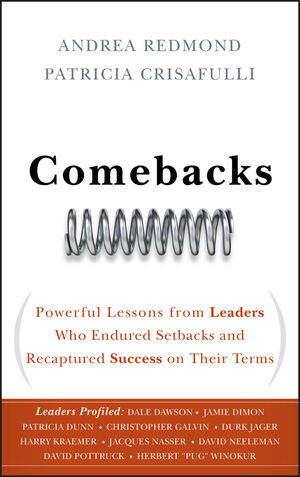 Comebacks: Powerful Lessons from Leaders Who Endured Setbacks and Recaptured Success on Their Terms
ISBN: 978-0-470-61988-9 June 2010 Jossey-Bass 256 Pages
Description
Gold Medal Winner, Success and Motivation, 2011 Axiom Business Book Awards
Insight from leaders who experienced major setbacks and redefined success
In tough economic times, when careers are derailed and leaders are forced to rewrite their professional plans, this book enlightens and uplifts. Comebacks features an all-star cast of ten leaders who endured setbacks-for some a public fall in the midst of media scrutiny-then reassessed and moved ahead with new purpose. Based on revealing interviews, the book presents a behind-the–headlines glimpse into the lives of leaders; how they drew upon resources, both internal and external, to move on; and the lessons that helped them redefine success. Leaders profiled include:
Jacques Nasser, former CEO of Ford Motor Co., recently appointed Chairman of BHP Billiton, the world's largest natural resources company
Patricia Dunn, former Chair of Hewlett-Packard, vilified for her alleged role in corporate espionage only to be exonerated from all charges, today active in philanthropy
Jamie Dimon (JP Morgan), Herbert "Pug" Winokur (Enron Corp.), David Neeleman (JetBlue), and more
Redmond, a top executive recruiter, and Crisafulli, author of The House of Dimon, show how all leaders face adversity, but true leaders turn adversity into success.
Introduction: When the Rug Gets Pulled.
1. David Neeleman: When It's Time to Move On.
2. David Pottruck: A Portrait in Candor.
3. Patricia Dunn: Trial by Fire.
4. Christopher Galvin: The Power of Resilience.
5. Herbert "Pug" Winokur: After the Storm.
6. Harry M. Jansen Kraemer, Jr.: Values-Based Leadership.
7. Jacques "Jac" Nasser: New Life After a Long Career.
8. Durk Jager: Peace of Mind and Walking Away.
9. Jamie Dimon: The Ultimate Comeback.
10. Dale Dawson: Pursuing a Life of Passion.
Notes.
Acknowledgments.
About the Authors.
Index.