Commercial Banking: The Management of Risk, 3rd Edition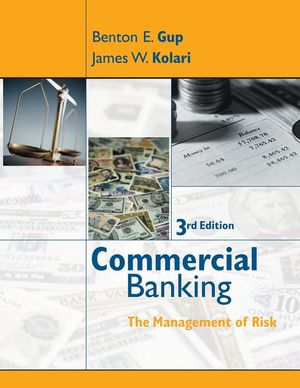 Commercial Banking: The Management of Risk, 3rd Edition
ISBN: 978-0-471-46949-0 August 2004 580 Pages
Description
From the growth of electronic banking, to the rapid rise in overseas operations, to deregulation and recent laws, Gup and Kolari's Commercial Banking: The Management of Risk, Third Edition (formerly Fraser, Gup, and Kolari) will help your students understand these new realities and keep up with what's happening in the banking industry. With a strong emphasis on managing risk and maximizing profit, this up-to-date text provides a comprehensive, practical introduction to bank management and current banking practices used to control different kinds of risk. With its case studies, its links to the Internet, and its comprehensive coverage--including brokerage services, insurance, and trust activities, as well as deposits, loans, and investments-- Commercial Banking provides the most thorough, up-to-date coverage for the introductory course in banking.
Table of contents
Preface.
Acknowledgements.
PART I: INTRODUCTION.
Chapter 1. Functions and Forms of Banking.
Chapter 2. The Bank Regulatory Environment.
Chapter 3. Evaluating Bank Performance.
PART II: ASSET/LIABILITY MANAGEMENT.
Chapter 4. Bank Valuation.
Chapter 5. An Overview of Asset/Liability Management (ALM).
Chapter 6. Techniques of Asset/Liability Management: Futures, Options, and Swaps.
PART III: INVESTMENT, LENDING, AND LIQUIDITY MANAGEMENT.
Chapter 7. Investment Management.
Chapter 8. Credit Evaluation Process.
Chapter 9. Commercial and Industrial Lending.
Chapter 10. Real Estate and Consumer Lending.
Chapter 11. Liquidity Management.
PART IV: CAPITAL, LIABILITIES, AND OFF-BAL-BALANCE SHEET MANAGEMENT.
Chapter 12. Capital Management.
Chapter 13. Liabilities Management.
Chapter 14. Off-Balance-Sheet Activities.
PART V: DOMESTIC AND INTERNATIONAL FINANCIAL SERVICES.
Chapter 15. Securities, Investment, and Insurance Services.
Chapter 16. Other Financial Services.
Chapter 17. Electronic Banking.
Chapter 18. Global Financial Services.
Glossary.
Index.
New To This Edition
New chapter on Credit Evaluation (Chapter 8).

New chapter on Securities, Investment, and Insurance Services (Chapter 15).

Expanded coverage of futures and options and their use in managing bank risks.

Up-to-date bank regulatory and legal changes, including forthcoming Basel II and the Financial Services Modernization Act of 1999.

Updated text and problems throughout.
What's New
Risk Management Theme: Risk management concepts are integrated throughout the text to teach students how to measure and control risks in banking.
Problem Scenario Approach: Problems and examples are used whenever possible to illustrate bank management concepts. Students gain hands-on experience through these realistic problems and situations.
Cases: Short end-of-chapter cases allow for more thorough discussion of various aspects of risk management.
Managerial Issues Boxes: This feature appears in each chapter to highlight the text's applied, managerial perspective.
Managing Risk Boxes:  This feature highlights the risk management theme and focuses on techniques, companies, and situations that illustrate important concepts.
Keyed to important websites, such as The Bank for International Settlements (BIS), throughout the text.
Students learn how to use the Internet to get their own credit scores.