Commercialization of Innovative Technologies: Bringing Good Ideas to the Marketplace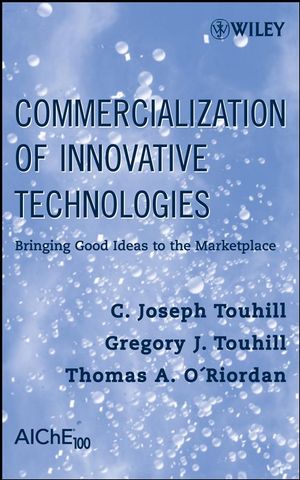 Commercialization of Innovative Technologies: Bringing Good Ideas to the Marketplace
ISBN: 978-0-470-23007-7 April 2008 272 Pages
Description
This book helps you find innovative new technology ideas and guides you through the complete lifecycle of product innovation, including screening, funding, development, and commercialization. It gives you an edge by enabling you to start off with a solid foundation and strategy. Commercialization of Innovative Technologies focuses on three core areas that set the stage for successful commercialization: Developing and managing a strong, flexible "innovation team" of inventors, investors, technologists, and entrepreneurs; building a portfolio that spreads risk; leveraging input from technologists throughout the commercialization process.
Foreword.
Acknowledgments.
1 Establishing Perspective.
1.1 Organization of the Book.
1.2 The Importance of Viewpoint.
1.3 The Importance of Flexibility.
1.4 Can Entrepreneurship Be Taught?
1.5 Key Points.
2 Our Perspective.
2.1 Strategy Development.
2.2 Technology Assessment.
2.3 Technology Development.
2.4 Technology Management.
2.5 Key Points.
3 Developing an Endgame.
3.1 Alternative Endgames.
3.2 Using Acquisition to Fill In Holes.
3.3 Showstoppers.
3.4 Endgame Objective Realized—Sort of.
3.5 What's a Widget.
3.6 Making It Work.
3.7 Key Points.
4 Finding Ideas.
4.1 If You Have Money, Ideas Find You.
4.2 Ideas Must Be Consistent with the Overall Plan.
4.3 Inventors/Innovators Must Be Prepared to Give Up Equity.
4.4 Key Points.
5 Investing in Ideas.
5.1 Beware of Eye-Popping Projections.
5.2 Remember This Is Risk Capital; Only a Percentage of Ideas Pay Off.
5.3 Structure the Payoff When the Ship Docks, Not When It Sails.
5.4 Bet on People with Proven Track Records.
5.5 Take Care in Assembling the Investment Group.
5.6 Key Points.
6 Assessing Ideas.
6.1 The Assessment Process.
6.2 The Need for Exclusive Rights.
6.3 Technological Assessments Are Easy; Marketing and Business Assessments Are Difficult.
6.4 Ideas That Are 10 Percent Better Aren't Good Enough.
6.5 Not Skimping on Time or Money When a Great Idea Shows Up.
6.6 Tapping the Full Resources of the Team Before Moving Ahead.
6.7 Moving Ahead with Development, Then Revising the Plan.
6.8 Key Points.
7 Paying for and Controlling Ideas.
7.1 Buyer and Seller Wish Lists.
7.2 Using Wish Lists to Reach Agreement.
7.3 Is Buying the Company a Good Thing?
7.4 Intellectual Property: The Most Valuable Asset.
7.5 Paying with Future Profits Whenever Possible.
7.6 Key Points.
8 Developing Ideas.
8.1 Remember: This Is Business, Not Research.
8.2 Maintaining Control of Development Efforts.
8.3 The Goal of Development Is the Basis of Design.
8.4 The Importance of Feasibility Studies.
8.5 The Value and Meaning of Estimates.
8.6 Knowing When to Celebrate and When to Cry.
8.7 Key Points.
9 Designing and Building Technology.
9.1 This Is Where the Spending of Real Money Begins.
9.2 Simple Designs Are the Most Elegant.
9.3 The Design Technology Should Be as Good as the Technology Designed.
9.4 The Manufacturing System Should Be Built to Be Flexible.
9.5 Key Points.
10 Demonstrating Technology.
10.1 Nobody Wants to Be the First to Use a New Technology.
10.2 Everbody Wants All the Details on How Our System Works (Free of Charge).
10.3 A Demonstration Deserves Something in Return.
10.4 When a Showcase Demonstration Works, Invite Everybody in the World to Come and See It (and Not Before).
10.5 How Many Demonstrations Are Enough?
10.6 Key Points.
11 Standardizing Technology.
11.1 Custom Suits Take Longer to Make and Are More Expensive.
11.2 Standard Designs Are Cheaper and Easier to Operate (and Fix).
11.3 Modularize Where Possible.
11.4 Cooperate with Suppliers and Partners.
11.5 Key Points.
12 Packaging Technology.
12.1 Overcome the Stigma of Being First.
12.2 Determine What Needs to Be Done to Make Technology Appealing.
12.3 The Art of Being Cool.
12.4 Protect Our Proprietary Rights Aggressively.
12.5 Key Points.
13 Applying Technology.
13.1 Off-the-Rack Suits Require Alterations.
13.2 Alterations and Options Always Cost Money.
13.3 Make Technical Support Easy and Accessible.
13.4 Good Service Generates More Business.
13.5 Key Points.
14 Marketing and Selling Technology.
14.1 The Difference Between Marketing and Selling.
14.2 Selling Value, Not Cost.
14.3 Don't Waste Time with People Who Aren't Serious.
14.4 The Importance of Market Share.
14.5 Marketing Tools.
14.6 Measuring Performance.
14.7 Technology Quotas and Retention Requirements Are a Must.
14.8 Key Points.
15 Tracking Technology.
15.1 Make Certain the Buyer Is Applying the Technology Correctly.
15.2 How About It If We Operate Your System for You?
15.3 Publicize Success.
15.4 Know When to Move On.
15.5 Key Points.
16 Monitoring Technology.
16.1 Make Sure We Are Collecting All Revenue That Is Due to Us, and Devise a System to Make It Happen.
16.2 Arrange for Visitors to Have Free Access to Customer Sites.
16.3 Obtain Access to Operating Data.
16.4 Key Points.
17 Improving Technology.
17.1 Figure Out Ways to Make the Innovation Better.
17.2 String Technologies Together to Form Integrated Systems.
17.3 Using Technology to Innovatively Transform the Battlefield: RIPRNET.
17.4 Close Air Support a Phone Call Away.
17.5 Remember That the Most Efficient Sale Is to a Repeat Customer.
17.6 Often It Is Much Easier to Increase Profit Margins on Existing Technology Than to Start from Scratch.
17.7 Key Points.
18 Building on Success and Learning from Failure.
18.1 "Chase Them to the River".
18.2 Investing in Improvements.
18.3 Identifying New Opportunities.
18.4 Everybody Makes Mistakes, but the Biggest One Is Not Learning from Them.
18.5 Key Points.
Bibliography.
Index.
"Unlike other recently published bio / technology entrepreneurship books that are either textbooks or provide a higher-level overview of technology commercialization,
Commercialization of Innovative Technologies
is a practical guide for technology commercialization practitioners, who want a perspective from the viewpoint of a technology commercialization consulting firm."  (
Journal of Commercial Biotechnology,
September 2009
)
"The book provides guidance for investors, inventors, entrepreneurs, and managers who are trying to introduce new technologies to the market." (APADE, 2009)
"The authors and the publishers should be congratulated for preparing such a comprehensive and informative book." (The Hebrew University of Jerusalem, 2008)
Emphasizes the importance of the innovation team (inventor/innovator, investor, technologist, and entrepreneur)

Addresses tactical issues such as how to find, fund, develop, design, and demonstrate innovative technology

Explains the life cycle of product innovation and the dynamics of bringing good technological innovations into practice

Addresses one of the fastest growing curricula in higher education today with more than 1,600 colleges offering courses technological entrepreneurship and innovation