Common Purpose: How Great Leaders Get Organizations to Achieve the Extraordinary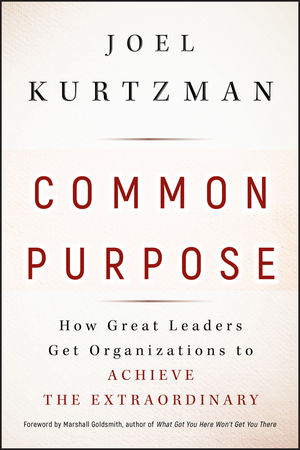 Common Purpose: How Great Leaders Get Organizations to Achieve the Extraordinary
ISBN: 978-0-470-49009-9
Mar 2010, Jossey-Bass
240 pages
Description
From one of the most respected names in business and leadership, a rare look at the specifics of how great leaders achieve "common purpose" and success within their organizations.
What is common purpose? It is that rare, almost-palpable experience that happens when a leader coalesces a group, team or community into a creative, dynamic, brave and nearly invincible we. It happens the moment the organization's values, tools, objectives and hopes are internalized in a way that enables people to work tirelessly toward a goal. Common purpose is rarely achieved. But Kurtzman has observed that when a leader is able to bring it about, the results are outsized, measurable and inspiring.
Based on Kurtzman's all-new interviews with more than 50 leaders, including Ron Sargent, Ilene Lang, Micky Arison, Simon Cooper, Joel Klein, Janet Field, Steve Wynn, Shivan Subramaniam, Michael Dell, Richard Boyatzis, Tom Kelley, Michael Milken, and Warren Bennis
Contains research on leadership Kurtzman has conducted during his years at The New York Times, the Harvard Business Review, Booz & Company, as well as with PricewaterhouseCoopers, Mercer, and Korn/Ferry
Based on all new interviews with some of the most dynamic, successful, and enduring leaders, Common Purpose sheds new light on the meaning of leadership, the crucial qualities of leaders, and most importantly, how to lead.
Foreword (
Marshall Goldsmith
).
Introduction: No One Leads Alone.
1 The Leadership Disconnect.
2 The New Rules of Employment.
3 Leaders at All Levels.
4 Internalizing What the Organization Stands For.
5 The Best Leaders Are Part of the Group.
6 Cultivating Curiosity, Not Complacency.
7 Creating a Culture of Leadership.
8 We're All in This Together.
9 How Leaders Stay Positive and Determined.
10 Leading Is a Mental Game.
11 Different Strokes for Different Generations.
12 You Don't Have to Be Ruthless to Lead.
13 Ideas Matter.
Epilogue: The Future of Leadership.
A Leadership Library.
About the Author.
Index.
"A thoughtful…and ethics-based discussion on leadership in the modern age by lauded businessman Kurtzman. A solid and readable look at 'New Leadership.'" (
Publishers Weekly
, January 18, 2010)
"Through well-told anecdotes and strong logic, Kurtzman convincingly demonstrates that the essence of leadership is the ability to forge, from a disparate group of individuals, "a creative, dynamic, brave and nearly invincible we." How does one do that? Not by stepping out in front of the group, describing a vision, and leading the charge forward. Rather, Kurtzman's ideal leader is deep in the mix of the organization, causing its values, objectives, and approaches to be internalized by decision makers at every level." (Harvard Business Review, January-February 2010)