Communicating Health: A Culture-centered Approach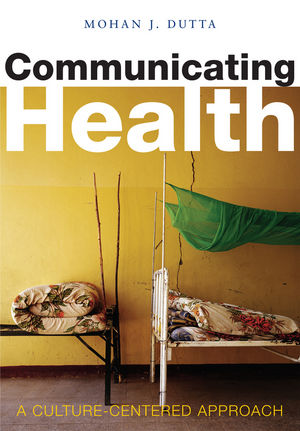 Communicating Health: A Culture-centered Approach
ISBN: 978-1-509-50605-7 May 2015 Polity 282 Pages
Description
The culture-centred approach offered in this book argues that communication theorizing ought to locate culture at the centre of the communication process such that the theories are contextually embedded and co-constructed through dialogue with the cultural participants. The discussions in the book situate health communication within local contexts by looking at identities, meanings and experiences of health among community members, and locating them in the realm of the structures that constitute health. The culturecentred approach foregrounds the voices of cultural members in the co-constructions of health risks and in the articulation of health problems facing communities. Ultimately, the book provides theoretical and practical suggestions for developing a culture-centred understanding of health communication processes.
Table of contents
List of Tables

List of Tables

List of Boxes

Acknowledgements

Introduction

1 Culture in Health Communication

2 Culture-Centered Approach to Health Communication

3 Theoretical Approaches to the Study of Culture

4 Culture, Identity and Health

5 Pathways of Curing and Healing: Biomedical Model

6 Culture and Marginalization

7 Health Experiences in Marginalized Sectors

8 Culture, Social Capital and Health

9 Culture and Resistance

10 Health, Culture and Globalization

11 Culture and Praxis

Bibliography
Reviews
"If you are looking for a fresh approach to teaching health communication,
Communicating Health
provides a unique perspective that will leave readers with a feeling of sensitivity, a call to justice, and a knowledge bank of practical strategies from culture-centered healthcare."
Communication Research Trends
"I quickly became engrossed in this thoughtful book. I recommend it to all who are prepared to be challenged."
Five star review from Nursing Standard
"Communicating Health is a most timely and critically important contribution to our global understanding of the location of culture in health communication. Drawing on multidisciplinary fields of scholarly traditions, Mohan Dutta offers sensitive yet compelling insights and critical thoughts that locate culture at the core of health communication. This is a book that should be read by everyone concerned about the role of health communication in achieving social justice, equity, and optimum health globally."
Collins O. Airhihenbuwa, Pennsylvania State University
"The book abounds with provocative and revealing examples that support conclusions and recommendations. It is equally valuable for health communication scholars and health promotion practitioners."
Gary L. Kreps, George Mason University
Features


Upper level undergraduate textbook designed primarily for health communication students

Breaks new ground by integrating the study of culture into health communication, introducing key concepts like marginalization, globalization and community

Illustrated with case studies, questions for discussion and further reading, plus a full glossary and other pedagogical features

Includes suggestions for putting the more theoretical concepts into practice