Communication Skills for Department Chairs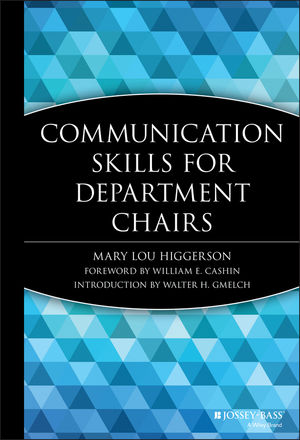 Communication Skills for Department Chairs
ISBN: 978-1-882-98213-4
Aug 1996, Jossey-Bass
320 pages
Description
Department chairs are both faculty and administrators, but neither the skills of a faculty member nor the stature of an administrator can alone make an effective department chair. Because department chairs occupy a dual role, it is imperative that they establish and maintain credibility with both the faculty and the central administration. Such a challenge requires strong communication skills.

Communication Skills for Department Chairs is designed as a resource for practicing department chairs. Developed from the author's experience in organizational communication, chairing a department, and conducting workshops for department chairs, this book presents essential communication strategies for successfully managing a department. Each chapter first describes communication skills that are useful in handling administrative tasks and then uses real-life case studies to demonstrate their application in typical situations. Every case study is followed by a series of questions that invite readers to consider alternatives and make decisions that would benefit their own departments.

The book teaches communication skills as well as offers prescriptive guidelines on fulfilling the administrative duties for which department chairs are typically responsible. It helps chairs to
Structure a department mission

Enhance the department climate and culture

Define a code of ethics for the department

Conduct performance counseling

Manage conflict among faculty

Implement departmental change

Work with the dean

Build important alliances

Promote the department
Useful for self-directed professional development or in seminar and workshop settings, this book is a practical and engaging resource for anyone who wants to communicate more effectively with multiple constituents.
About the Author.
Foreword.
Introduction.
Preface.
Author's Introduction.
Index of Cases by Higher Education Issues and Administrative Tasks.
Part One: Cultivating the Department Culture.
1. Structuring the Department Mission.
2. Enhancing the Department Climate.
3. Defining the Department Ethics.
Part Two: Working with Faculty.
4. Conducting Performance Counseling.
5. Managing Conflict.
6. Implementing Change.
Part Three: Interfacing with External Publics.
7. Working with the Dean.
8. Building Alliances.
9. Promoting the Department.
References.
Index.