Communication Systems, 5th Edition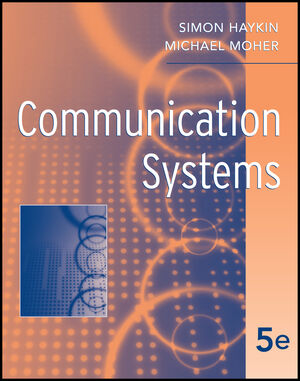 Communication Systems, 5th Edition
ISBN: 978-0-470-46088-7 November 2008 440 Pages
Description
This best-selling communication systems text continues to include the most comprehensive and rigorous coverage of digital communications in an undergraduate level text in this Fifth Edition.  In addition to being the most up-to-date communications text available, Simon Haykin has reintroduced features and coverage that have made this text a best-seller. Haykin now features equal and thorough coverage of both analog and digital material.
Table of contents
1. Introduction

2. Representation of Signals and Systems

3. Amplitude Modulation

4. Angle Modulation

5. Probability Theory and Random Processes

6. Noise in CW Modulation

7. The Transition from Analog to Digital

8. Baseband Digital Transmission

9. Digital Band-Pass Transmission Techniques

10. Information Theory and Coding

Appendix: Mathematical Tables

Glossary

Bibliography

Index
New To This Edition
EXAMPLES: Includes numerous examples, worked out in detail, are included to help students develop an intuitive grasp of the theory.
What's New
MOTIVATION:A less rigorous treatment than the Haykin: Communications Systems text, this text is designed to be accessible to all levels of students.