Communication and Implementation: Sustaining the Practice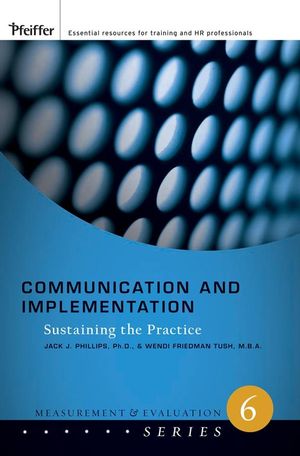 Communication and Implementation: Sustaining the Practice
ISBN: 978-0-787-98722-0
Feb 2008, Pfeiffer
224 pages
Description
Communication and Implementation

Communication and Implementation is the sixth of six books in the Measurement and Evaluation Series from Pfeiffer. The proven ROI Methodology--developed by the ROI Institute--provides a practical system for evaluation planning, data collection, data analysis, and reporting. All six books in the series offer the latest tools, most current research, and practical advice for measuring ROI in a variety of settings.

Communication and Implementation explores two important topics that are vital to the ROI Methodology--reporting results and sustaining the process. The authors show how to report results that will ensure that the audience has the information needed so that the improvement processes will be implemented successfully. The book explores the range of reporting methods, including face-to-face meetings, brief reports, one-page summaries, routine communication, mass-audience techniques, and electronic communications. The authors offer suggestions for determining the best methods to employ. In addition, Communication and Implementation contains information on how to keep the ROI process going for the long haul and how to make it a valued process for any organization.
Buy Both and Save 25%!
Original Price:$101.90
Purchased together:$76.43
save $25.47
Cannot be combined with any other offers.
Buy Both and Save 25%!
Original Price:$101.90
Purchased together:$76.43
save $25.47
Cannot be combined with any other offers.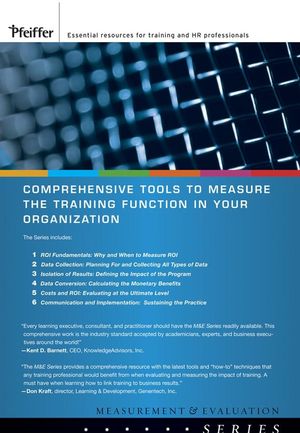 This item: Communication and Implementation: Sustaining the Practice
Purchased Together:$235.00
Acknowledgments from the Editors.
Principles of the ROI Methodology.
1. Reporting Results.
The Importance of Communication.
Principles of Communicating Results.
Timely Communication.
Targeted Communication.
Effective Media Selection.
Unbiased and Modest Communication.
Consistent Communication.
Testimonials from Respected Individuals.
Communication Strategy Shaped by the Audience's Opinion of the Program Team.
Analysis of the Need for Communication.
Communication Planning.
Communication Policies.
Communication Plan for the Entire Program.
Communication Plan for the Impact Study.
Audience Selection.
Preliminary Issues.
Basis for Selecting the Audience.
Development of the Information: The Impact Study.
Executive Summary.
Background Information.
Objectives.
Evaluation Strategy or Methodology.
Data Collection and Analysis.
Program Costs.
Reaction and Planned Action.
Learning and Confidence.
Application and Implementation.
Business Impact.
Return on Investment.
Intangible Measures.
Barriers and Enablers.
Conclusions and Recommendations.
Report Development.
Selection of Communication Media.
Meetings.
Staff Meetings.
Manager Meetings.
Best-Practice Meetings.
Business Update Meetings.
Progress Reports.
Organizational Publications and Standard Communication Tools.
E-Mail and Electronic Media.
Brochures.
Case Studies.
A Case Example.
Process of Communication.
Providing Continual Feedback.
Presenting Impact Study Data to Senior Management.
Communicating with Executives and Sponsors.
Strengthen the Relationship with Executives.
Distribute Memos on Program Results.
Ask Executives to Participate in Program Review.
Analysis of Reactions to Communication.
Creating a Macro-Level Scorecard.
Advantages of a Macro-Level Scorecard.
Example.
Final Thoughts.
2. Making the Transition to the ROI Methodology.
Overcoming Resistance to the ROI Methodology.
Resistance Is Always Present.
Implementation Is Key.
Consistency Is Necessary.
Efficiency Is Always an Issue.
Transition Issues.
Transition-Planning Steps.
Step 1: Assess Readiness.
Step 2: Overcome Resistance.
Step 3: Communicate a Vision.
Step 4: Manage the Transition.
Step 5: Establish Management Infrastructure to Support the Process.
Prepare Policy, Procedures, and Guidelines.
Structure ROI as a Learning Tool, Not a Performance Evaluation Tool.
Develop a Project Plan.
Integrate Cost-Saving Methods.
Final Thoughts.
3. Building Capability and Support.
Fundamental Issues in Implementing the ROI Methodology.
Identifying a Champion.
Developing the ROI Leader.
Assigning Responsibilities.
Tapping into a Network.
The ROI Network.
Local Networks.
Internal Networks.
Developing Evaluation Targets for the Staff.
Preparing the Program Staff.
Involving the Staff.
Using ROI as a Learning Tool.
Addressing Objections to Implementation.
Teaching the Staff.
ROI Evaluations.
Selecting Programs for ROI Evaluation.
Reporting Progress.
Preparing the Management Team.
Building an Effective Partnership Between Program Staff and Senior Management.
Training Managers.
Target Audience.
Timing.
Enlisting Support from Top Management.
Content.
The Overall Importance of Programs.
The Impact of Programs.
The Process of Program Development and Evaluation.
Responsibilities During the Process.
Active Involvement.
Monitoring Progress and Communicating Results.
Final Thoughts.
4. Sustaining the Use of the ROI Methodology: Keeping the Process on Track.
The Challenges of Sustainability.
Stages of Implementation.
Stage 1: Recognition.
Stage 2: Reservation.
Stage 3: Renewal.
Stage 4: Integration.
Actions That Sustain the ROI Methodology.
Publishing Case Studies.
Holding Annual Progress Reviews.
Calculating the ROI on Implementation of the ROI Methodology.
Reviewing Staff Roles.
Establishing Mechanisms for Continuous Improvement.
Development of Best Practices.
Best Practice 1.
Best Practice 2.
Best Practice 3.
Best Practice 4.
Best Practice 5.
Best Practice 6.
Best Practice 7.
Best Practice 8.
Best Practice 9.
Best Practice 10.
Best Practice 11.
Summary.
Final Thoughts.
About the Authors.
Index.