Communication in Health Organizations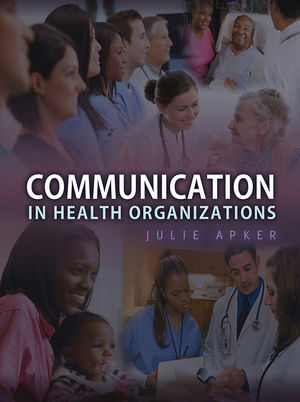 Communication in Health Organizations
ISBN: 978-0-745-64754-8 November 2011 Polity 208 Pages
Description
Communication in Health Organizations explores the communication processes, issues, and concepts that comprise the organization of health care, focusing on the interactions that influence the lives of patients, health professionals, and other members of health institutions. This book integrates scholarship from communication, medicine, nursing, public health, and allied health, to provide a comprehensive review of the research literature.

The author explains the complexities and contingencies of communication in health settings using systems theory, an approach that enhances reader understanding of health organizing. The reader will gain greater familiarity with how health institutions function communicatively, and why the people who work in health professions interact as they do. The text provides multiple opportunities to analyze communication occurring in health organizations and to apply communication skills to personal experiences. This knowledge may improve communication between patients, employees, or consumers. Understanding and applying the concepts discussed in this book can enhance communication in health organizations, which ultimately benefits health care delivery.

Communication in Health Organizations offers students, researchers, and health practitioners a unique multi-disciplinary perspective that invites stimulating reflection, discussion, and application of communication issues affecting today's health system.
List of Figures and Tables.
Acknowledgements.
Introduction
Chapter 1 Landscape of Healthcare Delivery
Chapter 2 Organizational Assimilation.
Chapter 3 Identity and Power.
Chapter 4 Stress, Burnout, and Social Support.
Chapter 5 Change and Leadership.
Chapter 6 Health Teams.
Chapter 7 Health Organization Quality.
Chapter 8 Health Communication Technologies.
References.
Name Index.
Subject Index.
"Julie Apker addresses the landscape of health care environment in a way that captures its complexity and honors the experiences of both providers and patients. Her consideration of contemporary events will help readers to make sense of their professional and personal encounters with health care organizations."
Katherine Miller, Texas A&M University
"Apker has done an outstanding job in integrating and synthesizing a large body of research on the subject of communication in health organizations, and making it relevant to students. This is an excellent companion text for general health communication courses, or courses specific to health organizations."
Eileen Berlin Ray, Cleveland State University
"At last, a well-written and compelling book that surveys the forms and functions of communication in health organizations! Apker offers a timely and masterful analysis that is theoretically grounded and comprehensive in scope. For anyone working in a caring profession or interested in the communicative challenges of complex health systems, this is a must-read."
Lynn Harter, Ohio University
Only book to date focusing on communication occurring in health organizations.
Flexibility for use in different health communication courses and class formats.
Breadth of research reviewed applies to exploring communication in multiple health-related disciplines.

Synthesises literature from both organizational and health communication to provide a textbook overview.
Covers a wide range of topics from teamwork and leadership through stress and ethics to power and control.
Employs a wide range of pedagogical features to guide classroom use of the book.