Communications Satellite Handbook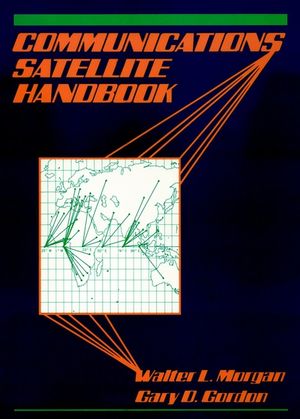 Communications Satellite Handbook
ISBN: 978-0-471-31603-9
Jan 1989
944 pages
Description
Business Earth Stations for Telecommunications Walter L. Morgan and Denis Rouffet This practical guide provides telecommunications managers with the basic information and procedures needed to configure a telecommunications network to meet the communications needs of their organization. It offers invaluable insights into the planning needs of managers, manufacturers, sellers, and installers of microterminals. The authors give you a complete overview of microterminal technology for the next decade, including: their history and nature, why they are used, who uses them and how service is provided, potential applications, an overview of the U.S. microterminal market, a look at network operators, and the economics of microterminal versus terrestrial services. 1988 (0 471-63556-1) 234 pp. A Basic Atlas of Radio-Wave Propagation Shigekazu Shibuya Now, in one source, planners and designers of telecommunications operating organizations can get direct guidelines for radio system planning and design. Carefully organized to present basic concepts of radio-wave propagation and system design, this indispensable work fully details even the most difficult mathematical theories and equations with graphic presentations that beginners and non-specialists will find particularly helpful. It presents all of the essential design elements required for VHF, UHF, and SHF radio in easy-to-follow chart form. In addition, every problem in this book can be explored using a computer. 1987 (0 471-88183-X) 778 pp. Radio System Design for Telecommunications (1-100 GHz) Roger L. Freeman Here's how to plan, engineer, and design analog and digital radiolinks in the point-to-point telecommunications service. Telecommunications expert Roger Freeman covers every aspect of radio system design used in telecommunications, including siting criteria, hardware layout, performance predictions, links and system analysis, facility planning, and frequency assignment information. The book also describes how radiolinks operate and how to select the necessary performance parameters and equipment specifications to meet the needs of various customers. 1987 (0 471-81236-6) 560 pp.
Partial table of contents:

Obtaining Access to the Satellite.

TELETRAFFIC.

Interfaces Between Terrestrial and Satellite Systems.

Telecommunications Systems.

COMMUNICATIONS SATELLITE SYSTEMS.

System Modeling.

Overall System Calculations.

MULTIPLE-ACCESS TECHNIQUES.

Frequency Domain Multiple Access.

Time Domain Multiple Access.

Space Domain Multiple Access.

Code Domain Multiple Access.

Random Multiple Access.

SPACECRAFT TECHNOLOGY.

Space Configuration and Subsystems.

Telemetry, Tracking, and Command.

Solar Arrays.

Attitude Control.

Thermal Control.

SATELLITE ORBITS.

Direction of Orbit Normals and of Sun.

Elliptical Orbits in a Plane.

Earth Station--Azimuth, Elevation, and Range.

Lunar and Solar Perturbations.

Launching into a Geostationary Orbit.

Index.