Community: Seeking Safety in an Insecure World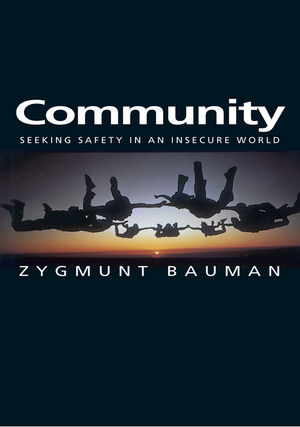 Community: Seeking Safety in an Insecure World
ISBN: 978-0-745-65709-7 May 2013 Polity 168 Pages
Download Product Flyer
Download Product Flyer
Download Product Flyer is to download PDF in new tab. This is a dummy description. Download Product Flyer is to download PDF in new tab. This is a dummy description. Download Product Flyer is to download PDF in new tab. This is a dummy description. Download Product Flyer is to download PDF in new tab. This is a dummy description.
Description
'Community' is one of those words that feels good: it is good 'to have a community', 'to be in a community'. And 'community' feels good because of the meanings which the word conveys, all of them promising pleasures, and more often than not the kind of pleasures which we would like to experience but seem to miss.

'Community' conveys the image of a warm and comfortable place, like a fireplace at which we warm our hands on a frosty day. Out there, in the street, all sorts of dangers lie in ambush; in here, in the community, we can relax and feel safe. 'Community' stands for the kind of world which we long to inhabit but which is not, regrettably, available to us. Today 'community' is another name for paradise lost - but for a paradise which we still hope to find, as we feverishly search for the roads that may lead us there.

But there is a price to be paid for the privilege of being in a community. Community promises security but seems to deprive us of freedom, of the right to be ourselves. Security and freedom are two equally precious and coveted values which could be balanced to some degree, but hardly ever fully reconciled. The tension between security and freedom, and between community and individuality, is unlikely ever to be resolved. We cannot escape the dilemma but we can take stock of the opportunities and the dangers, and at least try to avoid repeating past errors.

In this important new book, Zygmunt Bauman takes stock of these opportunities and dangers and, in his distinctive and brilliant fashion, offers a much-needed reappraisal of a concept that has become central to current debates about the nature and future of our societies.
Table of contents
An Overture, or Welcome to Elusive Community.
The Agony of Tantalus.
Rerooting the Uprooted.
Times of Disengagement, or the Great Transformation Mark Two.
Secession of the Successful.
Two Sources of Communalism.
Right to Recognition, Right to Redistribution.
From Equality to Multiculturalism.
The Bottom Line: The Ghetto.
Many Cultures, One Humanity?.
Afterword.
Notes.
Index
Reviews
"These books mark an important advance in Bauman's project. He seems to be trying to bring the intellectuals back into the game, twitting them for their passivity. Bauman wants social critics to take a more active role, taking a lead by showing how the relationships between individuals and society and between the private and public spheres may be rearticulated and the spirit of the
agora
restored to social and political life."
British Journal of Sociology

"This book is an example of what social thought can be when it is carried out in terms of the highest of qualities. As such, it demands to be read for two reasons; first, because of the fascinating and new light it casts on otherwise well-worn debates and second, as a call to arms."

Contemporary Sociology

"Bauman's argument is convincing and well substantiated. This book forms an interesting and stimulating starting point for anyone wishing to dig deeper into this field".

Gary Pattison, University of Southampton. Network
Features
- an insightful overview by one of the most original thinkers today
- an original approach to the subject of community giving a unique and alternative way of thinking about the issues involved
-written in an accessible way that will appeal to a range of readers