Community Economics: Linking Theory and Practice, 2nd Edition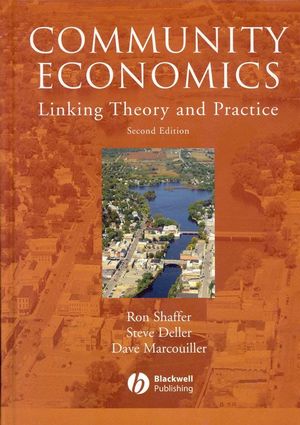 Community Economics: Linking Theory and Practice, 2nd Edition
ISBN: 978-0-813-81637-1 April 2004 Wiley-Blackwell 363 Pages
Description
This Complete revision of Dr. Shaffer's classic
Community Economics
provides readers with a comprehensive understanding of economic structure in small communities and urban neighborhoods of America. Authors Shaffer, Deller, and Marcouiller review the economics of smaller communities with continued emphasis on how to build and achieve theoretically sound community economic development policy. The text also demonstrates how local participation and knowledge can be used to identify problems, form solutions, and maintain community support for long-term goals.
The main body of economic research and literature has neglected the economics of smaller communities. Community Economics: Linking Theory and Practice fills that information void. This text serves as a comprehensive guide on smaller, open economies and urban neighborhoods for economists, regional planners, rural sociologists, and geographers. Additionally, Community Economics is an issue-oriented handbook of development strategies for development practitioners, planning and zoning officials, and others involved in the ay-to-day activities of community economic development.
Table of contents
Foreword.
Preface..
Section I: Community Economic Development Theory.
1. Defining Community Economic Development.
2. Growth Theory.
3. Space and Community Economics.
4. Concepts of Community Markets..
Section II: Community Factor Markets.
5. Land Markets.
6. Labor Markets.
7. Financial Capital Markets.
8. Technology and Innovation.
9. Nonmarket Goods and Services: Amenities.
10. Local Government and Public Goods..
Section III: Institutions and the Art of Community Economics.
11. Institutions and Society.
12. Policy Modeling and Decision-Making.
13. The Practice of Community Economic Development..
Section IV: Tools of Community Economics.
14. Descriptive Tools of Community Economic Analysis.
15. Inferential Tools of Community Economic Analysis: fixed-Price Models.
16. Inferential Tools of Community Economic Analysis: Price: Endogenous Models.
17. Looking to the Future.
References.
Index.
Reviews
"This edition succeeds...in ways very few other attempts have achieved. Concepts are applied, models explained, principles are richly explicated, and themes are well developed, all in a fashion that really draws economic theory and literature into their regional and community contexts. Even those with only a cursory exposure to the economic theory of local development will find sections of the book highly readable and extremely useful."
"Not unlike the original edition, Community Economics will find a place in the classroom...for it is, simply put, as good grounding in economic theory placed in a practical context as any I have read."

Mark B. Lapping, University of Southern Maine in Journal of Regional Science, Vol. 46, No.4, 2006