Community Health Care Nursing, 4th Edition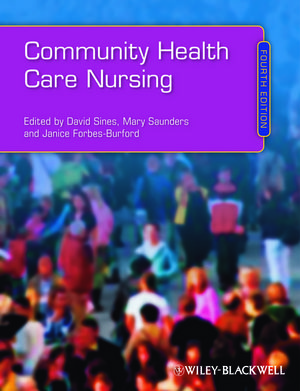 Community Health Care Nursing, 4th Edition
ISBN: 978-1-118-71323-5 May 2013 Wiley-Blackwell 392 Pages
Description
Review of previous edition:
"An extremely popular and valuable resource to students, practitioners and managers in community health care nursing."
Journal of Advanced Nursing
Community Health Care Nursing
has become established as an essential source of reference for all those working in the primary care and community health care domain. The Fourth Edition of this successful text focuses on new emergent agendas which affect primary care and public health education and service delivery/improvement.
Comprehensive and accessible, this well established text draws on a wide range of subject experts all aiming for excellence in service delivery, to produce a resource that addresses the key aspects of community health delivery reflecting the reality of the new community/primary care agenda in the United Kingdom. Integrated throughout the book are themes relevant to contemporary community healthcare nursing, including Self Managed Care/Managed Care Pathways, Long Term Conditions, Palliative care and End of Life Care, Urgent and Unscheduled Care, Offender Care, and Continuing/Intermediate Care.  The result is a book which focuses on new opportunities for contemporary practice, service delivery/improvement and education response within the context of the modernised primary and public healthcare service
Key features:
 New edition of a well-established and successful text

Written by experts in the field

Examines competencies in practice

Includes evidence-based guidelines and integrates national service framework requirements

Includes new chapters on Advanced Nursing Practice and competence assessment, modernised primary healthcare workforce and workforce change, Commissioning, and user and public engagement
Table of contents
1. The context of Community Health Care Nursing.
2. Social Policy in Public Health & Primary Care.
3. The Origins of Contemporary Primary Healthcare.
4. Community Development in Public Health & Primary Care.
5. Health Needs Assessment, Risk Assessment and Public Health.
6. Research Perspectives Applied to Primary Health care.
7. Specialist Community Public Health Nursing- Health Visiting.
8. General Practice Nursing.
9. Contemporary Issues in District Nursing.
10. Community Children's Nursing.
11. School Nursing.
12. Occupational Health Nursing.
13. Community Mental Health Nursing.
14. Community Learning Disability Nursing.
15. Advanced Nursing Practice in the Community.
16. Inter-Professional Practice and Teamwork.
17. Measuring the Effectiveness of Community Healthcare Nursing.
18. Non Medical Prescribing.
19. Specialist Community Public Health Nursing.
20. Primary Care Service Provision and Commissioning.
21. Inter Professional Practice Teaching and Learning.
22. User and Public Involvement
Reviews
"An excellent introduction to community nursing, giving a broad overview of many fields and specialism this book provides an ideal starting point for further study in your chosen field." (3rd year nursing student, Canterbury Christchurch University)
Features
New edition of a well-established and successful text
Written by experts in the field
Examines competencies in practice
Includes evidence-based guidelines and integrates national service framework requirements
Includes new chapters on Advanced Nursing Practice and competence assessment, modernised primary healthcare workforce and workforce change, Commissioning, and user and public Engagement