Community Nursing in Australia, 2nd Edition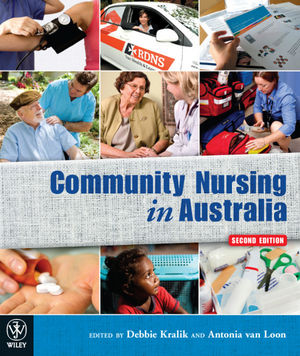 Community Nursing in Australia, 2nd Edition
ISBN: 978-1-742-16806-7
May 2011
543 pages
Product not available for purchase
Description
Community nurses in Australia are a vibrant and responsive group of professionals, meeting the health needs of Australians where they most want to be cared for - within their own community. Like all health professionals in Australia, community nurses are currently engaged in transition, seeking to respond to unprecedented societal and healthcare changes. These changes are impacting on both the health needs of Australians and the way that community nursing care is provided.

With chapters written by authors who are central figures in Australian community nursing, this text has been developed as a resource specifically to inform and engage undergraduate nurses about community nursing practices across the lifespan. Diverse roles and contexts explored include those of district nurses, practice nurses, nurse practitioners, rural and remote area nurses, domiciliary midwives, child health nurses, school nurses, faith community nurses and hospital-to-home nurses.
Preface.
About the editors.
About the contributors.
Acknowledgements.
PART 1 Contexts of community nursing in Australia.
Chapter 1 Community nursing in Australia: past, present and future.
Chapter 2 Contexts of community nursing.
Chapter 3 Primary healthcare.
PART 2 Professional community nursing practice.
Chapter 4 Legal and ethical issues.
Chapter 5 Safety and risk management.
Chapter 6 Using research and evidence in practice.
PART 3 Approaches to working with Australian communities.
Chapter 7 Cultural competence.
Chapter 8 Facilitating transition for vulnerable clients.
Chapter 9 Promoting family and child health.
Chapter 10 Older persons' health and end-of-life care.
PART 4 Practical aspects of community nursing.
Chapter 11 Health education and health promotion.
Chapter 12 Working across a continuum of healthcare.
Chapter 13 Working in the community.
Glossary.
Index.
Content updated and reorganised into 13 chapters to suit the topic coverage and weekly focus of typical 12 to 13 week undergraduate Community Nursing subjects.
Regular 'Spotlights' in each chapter highlight real world community nursing situations
Engaging full colour presentation
E-book
In-chapter critical thinking questions and end-of-chapter exercises and case studies
Accompanying instructor's resources (Instructor's Resource Guide, PowerPoint teaching slides, Test Bank/practice quizzes, Video assignments) upon adoption as a text for a course
LMS resources (e.g. BlackBoard/Web CT/Moodle).