Community Policy Analysis Modeling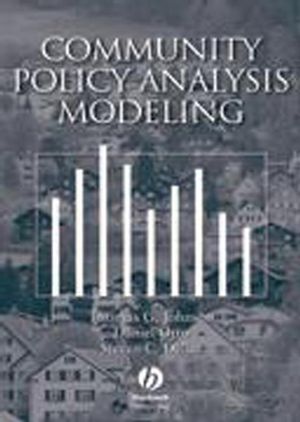 Community Policy Analysis Modeling
ISBN: 978-0-813-80453-8
Jan 2006
287 pages
Description
With the shifting of responsibility for designing, planning and managing federally funded programs to state and local government, there is a need for a new group of public servants and others to be aware of how to deal with these responsibilities and challenges. The editors have been active in conducting training with state and local policy makers on how to deal with models using the material in this proposed work.


The proposed work outlines and documents a set of community level analytical tools and procedures to assist local decision-making processes. The major goals of the work are to provide a reference for future community policy modeling and analysis efforts, and to provide a group of examples of applications of modeling.
Chapter 1 Introduction to Community Policy Analysis Modeling.
Chapter 2 New Governance and the Changing Face of Rural America.
Chapter 3 Patterns of Local Government Activities in the United States.
Chapter 4 A National Infrastructure for Community Policy Analysis.
Chapter 5 The Philosophy Underlying Community Policy Models.
Chapter 6 Modeling the Local Labor Market.
Chapter 7 Modeling the Public Sector.
Chapter 8 The Show-Me Community Policy Analysis Model.
Chapter 9 The Iowa Economic/Fiscal Impact Modeling System.
Chapter 10 The Great Basin Fiscal Impact Model.
Chapter 11 SAFESIM: The Small Area Fiscal Estimation Simulator.
Chapter 12 Data Issues.
Chapter 13 Software Development and Utilization.
Chapter 14 Evaluating the Performance of Community Policy Models.
Chapter 15 Scenario Development in Community Policy Analysis Models: When is a Cost Actually a Benefit?.
Chapter 16 Applications of Community Policy Analysis Models: Three Case Studies


Culmination of years of research and testing community policy analysis models


Provides important examplesof modeling applications


Written by authors with vast experience training and applying modeling concepts