CompTIA A+ Complete Certification Kit Recommended Courseware: Exams 220-801 and 220-802, 2nd Edition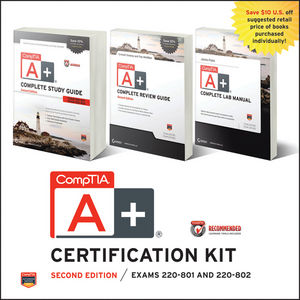 CompTIA A+ Complete Certification Kit Recommended Courseware: Exams 220-801 and 220-802, 2nd Edition
ISBN: 978-1-118-38842-6
Oct 2012
Product not available for purchase
Description
The perfect study tool for price-savvy candidates preparing for the 2012 CompTIA A+ exams
CompTIA A+ certification is the industry standard for computer technicians. Careful preparation for the exams is key. If you're preparing to take CompTIA's A+ certification exams 220-801 and 220-802, this CompTIA Recommended kit is the preparation you need. Three essential Sybex guides are packaged into one handy set that includes complete coverage of all exam objectives, real-world scenarios and exercises, the expertise of seasoned authors, loads of review questions, and plenty of practice exams.
Value-priced kit features three Sybex guides to help you prepare for CompTIA A+ exams 220-801 and 220-802: CompTIA A+Complete Study Guide, Second Edition; CompTIA A+ Complete Review Guide, Second Edition; and CompTIA A+ Lab Manual
Covers all exam objectives, provides exercises to hone your real-world skills, and walks you through focused reviews for that last-minute test prep
Includes hundreds of review questions and eight total practice exams
The CompTIA Recommended CompTIA A+ Complete Certification Kit, Second Edition has all the tools you need to study, practice, review, and confidently take the 2012 CompTIA A+ exams.