CompTIA Linux+ Complete Study Guide Authorized Courseware: Exams LX0-101 and LX0-102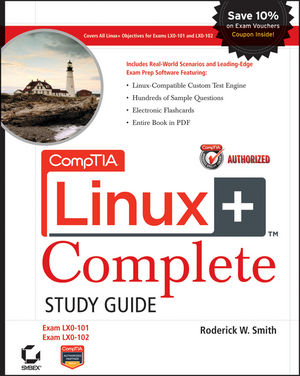 Description
New edition prepares candidates for exams LX0-101 and LX0-102—and Linux+ certification!
The two leading Linux certification bodies, CompTIA and Linux Professional Institute (LPI), have joined forces to release two new Linux+ exams, LX0-101 and LX0-102. This new Sybex study guide breaks down everything you need to prepare for the exams.  Covering all exam objectives, the book explains Linux command-line tools, managing software, configuring hardware, managing files and filesystems, and much more. The companion CD features a leading-edge test engine and a host of other study tools, giving you ample opportunity to study, practice, and review.
Covers all exam objectives for the Linux+ exams, LX0-101 and LX0-102
Explains Linux command-line tools, managing software, configuring hardware, the boot process and scripts, and managing files and filesystems
Also covers working with the X Window system, administering the system, basic networking, and server and system security
Provides leading-edge test prep software, four practice exams, over 100 electronic flashcards, and the book in searchable PDF, on a companion CD
If you want to prepare for Linux+ certification, a Sybex Study Guide is what you need!
Note: CD-ROM/DVD and other supplementary materials are not included as part of eBook file.
Introduction.
Assessment Test.
Part I The CompTIA Linux+ LX0-101 Exam.
Chapter 1 Exploring Linux Command-Line Tools.
Chapter 2 Managing Software.
Chapter 3 Configuring Hardware.
Chapter 4 Managing Files.
Chapter 5 Booting Linux and Editing Files.
PART II The CompTIA Linux+ LX0-102 Exam.
Chapter 6 Configuring the X Window System, Localization, and Printing.
Chapter 7 Administering the System.
Chapter 8 Configuring Basic Networking.
Chapter 9 Writing Scripts, Configuring E-mail, and Using Databases.
Chapter 10 Securing Your System.
Glossary.
Index.
Chapter
Page
Details
Date
Print Run
1
18
Text correction: Error in code under "Generating Command Lines"
The first line of code on the page,
$ find ./ -name "*~" | xargs rm
could delete more files than intended. The line should read:

$ find ./ -name "*~" | xargs -d "\n" rm

In addition, append this text to the following paragraph:

"Problems can arise if filenames contain spaces, since by default xargs uses both spaces and newlines as item delimiters. The -d "\n" option to xargs tells it to use only newlines as delimiters, thus avoiding this problem in this context. (The find command separates each found filename with a newline.)"
7/13/12
1st

---