CompTIA Network+ eTestPrep (N10-005) Downloadable Version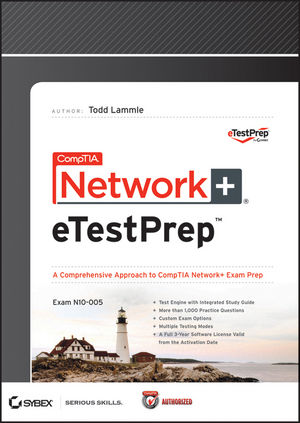 CompTIA Network+ eTestPrep (N10-005) Downloadable Version
ISBN: 978-1-118-35349-3
Jul 2012
Product not available for purchase
Description
Test prep software featuring more than 700 sample questions and answers for the CompTIA Network+ Certification Exam, including an integrated e-book for in-depth learning.

This custom test engine product is packed with more than 700 practice exam questions, each containing a link to an integrated e-book version of Sybex's CompTIA Network+ Study Guide, which prepares you not only for the certification exam, but for the real world as well.

In addition, the cutting-edge features of this unique testing product allows you to create custom practice tests, including testing on specific exam objectives and topic areas. Users are given the choice to take the exam questions in one of two modes: Practice (similar to actual live exam in that user does not see correct answers and explanation until test is completed) or Learning (allows user to check answers as they progress through the exam, and can get hints and relevant information from the Sybex Study Guide).
Encourages you to take your preparation to new heights by offering you custom exams that support all question types
Includes practice questions in the five main areas: network technologies, network installation and configuration, network media and topologies, network management, and network security
Features test questions prepared by networking guru and bestselling author and networking guru Todd Lammle
Provides a full three-year software license that is valid upon activation
The CompTIA Network+ certification (N10-005) provides you with a great starting point for a career as an IT Administrator, and this unique product will give you the preparation you need to approach the exam with confidence.
NOTE: You can download the software from the "Downloads" tab on the product page of sybex.com to preview the product using the demo mode. You will need to purchase an activation code from sybex.com in order to use all of the features and functions of the product. 
SYSTEM REQUIREMENTS:
CPU: 1000 megahertz (MHz) processor or higher
RAM: minimum of 512 MB
FREE DISK SPACE: 250 MB
DISPLAY: 1024x768, 16 bit color depth or higher resolution monitor
INTERNET CONNECTION:
Only required for download and license activation
OPERATING SYSTEM:
Windows XP SP3, Windows Vista, or Windows 7 (32 or 64 bit)
Adobe Flash Player: Version 7 or later
The license is active for 36 months from time of activation.