Company Accounting, 10th Edition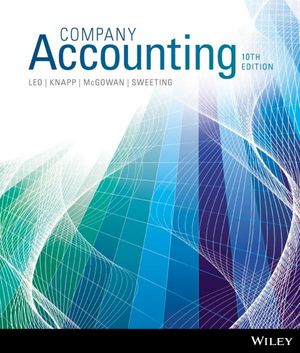 Company Accounting, 10th Edition
ISBN: 978-0-730-32401-0
Aug 2014
1392 pages
Product not available for purchase
Description
Company Accounting, 10th edition has been thoroughly updated to reflect the various and ongoing reforms as a result of Australia's adoption of international financial reporting standards. Containing several all-new chapters, this edition provides an authoritative and reliable overview of the various changes required within the Framework and a selection of key accounting standards governing corporate entities.

The text provides students with a comprehensive overview of the practice and principles of company accounting, and helps them develop the practical grounding to reinforce their understanding. The 10th edition presents essential 'must know' information on accounting for a corporate entity and the requirements for externally disclosing the financial position of the entity.

Company Accounting, 10th Edition retains the hallmark features seen in previous editions of the title, including a high attention to detail, practical application of accounting standards, provision of a conceptual basis, and depth of analysis.
Preface xiv
Supplementary materials xv
Acknowledgements xvi
Chapter 1 Nature and regulation of companies 1
Chapter 2 Financing company operations 37
Chapter 3 Company operations 91
Chapter 4 Fundamental concepts of corporate governance 155
Chapter 5 Fair value measurement 197
Chapter 6 Accounting for company income tax 237
Chapter 7 Financial instruments 297
Chapter 8 Foreign currency transactions and forward exchange contracts 349
Chapter 9 Property, plant and equipment 395
Chapter 10 Leases 453
Chapter 11 Intangible assets 515
Chapter 12 Business combinations 567
Chapter 13 Impairment of assets 633
Chapter 14 Disclosure: legal requirements and accounting policies 687
Chapter 15 Disclosure: presentation of financial statements 735
Chapter 16 Disclosure: statement of cash flows 799
Chapter 17 Translation of financial statements into a presentation currency 861
Chapter 18 Consolidation: controlled entities 905
Chapter 19 Consolidation: wholly owned subsidiaries 931
Chapter 20 Consolidation: intragroup transactions 991
Chapter 21 Consolidation: non-controlling interest 1047
Chapter 22 Consolidation: other issues 1109
Chapter 23 Associates and joint ventures 1177
Chapter 24 Joint arrangements 1237
Chapter 25 Insolvency and liquidation 1277
Appendix: Present value tables 1351
Glossary 1353
Index 1364
The 10th edition of Company Accounting has been written during a time of many changes in international financial reporting standards.
 As a result of these changes and in response to market demand we have made a significant number of content revisions and have also included several new chapters in the tenth edition:
Chapter 7 Financial instruments
Chapter 8 Foreign currency transactions and forward exchange contracts
Chapter 17 Disclosure: Translation of financial statements
Chapter 24 Joint arrangements
Chapter openers outlining the chapter aim, learning objectives and assumed knowledge for the chapter.
Learning Check supports chapter learning objectives and summarises key concepts. Appearing throughout each chapter, they are ideal for self-study purposes.
The Student Activity Section contains a chapter summary, demonstration problems, discussion questions, case studies, graded exercises and problems.
Illustrative examples appear in all chapters and the inclusion of worked solutions will support student understanding of procedures and processes