Company Accounting, 9th Edition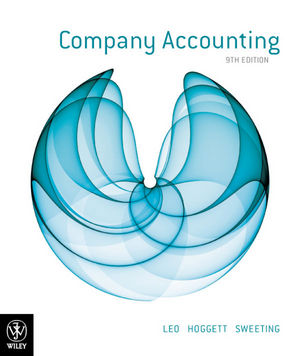 Company Accounting, 9th Edition
Description
Company Accounting 9thedition has been thoroughly updated to reflect the various and ongoing reforms as a result of Australia's adoption of international financial reporting standards. This edition provides an authoritative and reliable overview of the various changes required within the Framework and a selection of key accounting standards governing corporate entities. For example, AASB 101 Presentation of Financial Statements, which relates to external disclosure of financial information in a set of general-purpose financial statements, AASB 3 Business Combinations and AASB 127 Consolidated and Separate Financial Statements.



The text provides students with a comprehensive and practical grounding in the principles of company accounting. This edition presents essential 'must know' information on accounting for a corporate entity and the requirements for externally disclosing the financial position of the entity.
CHAPTER 1 Nature and regulation of companies 1
CHAPTER 2 Financing company operations 35
CHAPTER 3 Company operations 87
CHAPTER 4 Fundamental concepts of corporate governance 147
CHAPTER 5 Fair value measurement 181
CHAPTER 6 Accounting for company income tax 219
CHAPTER 7 Property, plant and equipment 273
CHAPTER 8 Leases 333
CHAPTER 9 Intangible assets 391
CHAPTER 10 Business combinations 443
CHAPTER 11 Impairment of assets 513
CHAPTER 12 Disclosure: legal requirements and accounting policies 565
CHAPTER 13 Disclosure: presentation of financial statements 607
CHAPTER 14 Disclosure: statement of cash flows 673
CHAPTER 15 Consolidation: controlled entities 735
CHAPTER 16 Consolidation: wholly owned subsidiaries 759
CHAPTER 17 Consolidation: intragroup transactions 817
CHAPTER 18 Consolidation: non-controlling interest 873
CHAPTER 19 Consolidation: other issues 937
CHAPTER 20 Accounting for investments in associates 1003
CHAPTER 21 Insolvency and liquidation 1051
Chapter 8 'Business Combinations' updated to reflect changes with AASB 108 'Business Combinations' as a result of the Exposure Draft of Proposed Amendments to IFRS 3
All chapters on consolidation of financial statements (chapters 14 to 18) have been updated in accordance with AASAB 127 Consolidated and Separate Financial Statements
New disclosure requirements as a consequence of AASB 101 Presentation of Financial Statements fully integrated
Discussion of Dividends updated as a consequence of changes in reporting and measurement requirements
Revised to accord with changes in AASB as a consequence of continuing reforms with IFRS
More 'Learning Check' summaries in all chapters reiterate and summarise important concepts
New 'Student Activity Section' in each chapter contains a summary, demonstration problems, discussion questions, case studies, graded exercises and problems
Reorganised end-of-chapter sections contains more diverse activity scenarios for students in an attempt to develop a broader skill base.
'Learning Checks' support chapter learning objectives and summarise key knowledge for students. They appear throughout each chapter and are ideal for self-study purposes
Thorough illustrative examples and demonstration problems with various examples supported with step-by-step narrations.