Comparative Economic Systems: Culture, Wealth, and Power in the 21st Century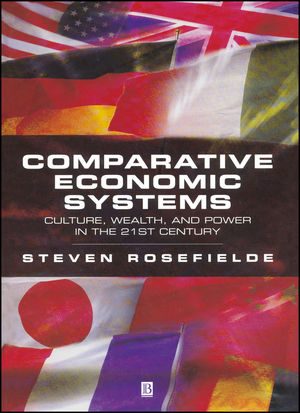 Comparative Economic Systems: Culture, Wealth, and Power in the 21st Century
ISBN: 978-1-119-10014-0 January 2015 Wiley-Blackwell 304 Pages
Description
Comparative Economic Systems: Culture, Wealth and Power in the 21st Century explains how culture, in various guises, modifies the standard rules of economic engagement, creating systems that differ markedly from those predicted by the theory of general market competition. This analysis is grounded in established principles, but also assumes that individual utility seeking may be culturally determined, that political goals may take precedence over public well being, and that business misconduct may be socially detrimental.
Preface.
Glossary.
Introduction.
Part I: Systems.
1. Comparative Economic Systems.
2. Classification and Principles.
3. Culture, Politics and Ethics.
4. Power.
Part II: Perfect Economic Mechanisms.
5. Perfect Competition.
6. Perfect Governance.
Part III: Great Powers.
7. America.
8. Continental Europe.
9. Japan.
10. China.
11. Russia.
12. Transition.
13. Comparative Potential.
Part IV: Performance.
14. Measurement.
15. Global Performance.
Part V: International Relations.
16. Security.
17. Military Balance.
18. Interplay.
"Now that the transition is over, Professor Steven Rosefielde is bringing back a new and improved version of comparative economic systems, one that treats culture, politics, and business misconduct explicitly in a market context. Rosefielde's approach is original and sophisticated, producing a theoretically rigorous text still accessible to the advanced undergraduate student. Students will learn a large amount of economic theory and come to appreciate the variety of economic systems and the sources of that variety. This is a signal accomplishment by a serious scholar and student of comparative economics."
James Millar, George Washington University
<!--end-->
"This book is an outstanding text to acquaint students with the differences among the world's major economic systems. Its author is one of the best-informed and most careful scholars in the field." Quinn Mills, Harvard Business School

"Thisis an ambitious and innovative work that rigorously and successfully addresses a question that economists often and mistakenly ignore: namely, how do ethics, culture, and politics affect the operation of core economic principles and the relative performance of the major economic systems in the global economy?"Charles Wolf, RAND

"Rosefielde provides a forward-looking text that is firmly grounded in the fundamentals of comparative economics but that seizes fully the opportunities offered to the field by the end of the cold war. This is a text that can make comparative economic systems a "must-take" course for every undergraduate and a "must-offer" course for every economics department." Josef C. Brada, Arizona State University


Uniquely blends an appreciation of the merits of free enterprise with the recognition that no nation fully adheres to its structures.


Explains why nations choose different economic systems, how they actually work, and should be optionally managed.


Provides a primer for students of international relations interested in the economic foundations of security.


Includes data on the comparative economic performance of 174 countries, which shows how differences in systems potential affect the pattern of global economic behaviors.