Comparative Employment Relations: An Introductioin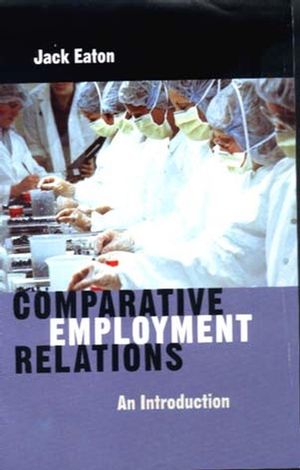 Comparative Employment Relations: An Introductioin
ISBN: 978-0-745-62293-4 August 2000 Polity 240 Pages
Download Product Flyer
Download Product Flyer
Download Product Flyer is to download PDF in new tab. This is a dummy description. Download Product Flyer is to download PDF in new tab. This is a dummy description. Download Product Flyer is to download PDF in new tab. This is a dummy description. Download Product Flyer is to download PDF in new tab. This is a dummy description.
Description
This major new textbook provides a concise introduction to employment and industrial relations. Unlike many other textbooks, this adopts a comparative approach, examining the changing nature of employment practices in relation to the processes of globalization, and engaging critically with the literature on Human Resource Management. By taking account of the international dimension of employment relations, this book is at the forefront of new developments in the field.

The thematic approach of Comparative Employment Relations makes it distinctive from the country-by-country studies of this topic. Jack Eaton synthesizes recent work in the field to establish a basis for further study in the most important areas of industrial relations, including Japanese-style employment practices; comparative collective bargaining; the rules of employment and routes to skill formation; collective labour law; globalization and transnational companies. He concludes by examining the prospects for comparative employment relations. By equipping students with a set of useful concepts and perspectives, this book will give them the confidence to explore the now extensive international literature on employment management, and to utilize the methods of comparative analysis in their own work.

This book will be essential reading for second- and third-year undergraduates studying business, management, economics and the sociology of work and industry.
Table of contents
Acknowledgements.
1. Overview - Convergence or Continuing Diversity of Industrial Relations Systems?.
2. From the Fabulous East: the Japanese Origins of Human Resource Management and the Convergence Hypothesis.
3. Japanese-style Employment Practices Outside Japan.
4. Trade Unions - in Need of some International Solidarity.
5. Comparative Collective Bargaining.
6. Training - Comparative Routes to Skill Formation.
7. The Rules Governing Employment: A Comparative View.
8. Comparative Labour Law - Individual Employment Rights.
9. Collective Labour Law.
10. Transnational Companies, Globalization and Industrial Relations.
11. Minimum Standards in International Trade.
12. Participation: Partnership or Teamworking for Productivity.
13. Conclusions and Prospects for Comparative Industrial Relations.
References.
Index.
Reviews
'Jack Eaton's
Comparative Employment Relations
is one of the few books on the market that actually compares different employment relations systems, rather than simply providing a set of discrete chapters that encourage the reader to make the comparisons ... Such a book can only ever be an introduction, but Eaton has provided a valuable beginning.'
Times Higher Education Supplement
'Jack Eaton's declared aim for his text is that of "providing food for thought of an analytical kind, especially for the student new to the subject of comparative industrial relations". In this he has succeeded admirably, and not just for the new student; there is plenty here for old hands as well ... An important merit of Eaton's book lies in his preparedness to develop a cohesive argument rather than bringing together what can seem like a random collection of data from different counties.' Industrial Relations Journal

"A thought-provoking introduction to worldwide trends and issues in employment relations. It addresses many of the hard questions that students and teachers in this field have to face." Labour & Industry
Features
* This is an introductory text aimed specifically at students.

* Thematic approach, rather than country by country.

* Single author - many comparative books on industrial relations are collections of individually written chapters, loosely held together by the word "comparative".

* There is increasing prominence given to international aspects in Human Resource Management study schemes. This book offers a 'way in' to the now extensive literature.

* The issue of globalization and the power of transnational companies are addressed. There is scrutiny and appraisal of the proposals that have been made for minimum standards clauses in international trade.