Comparative Media History: An Introduction: 1789 to the Present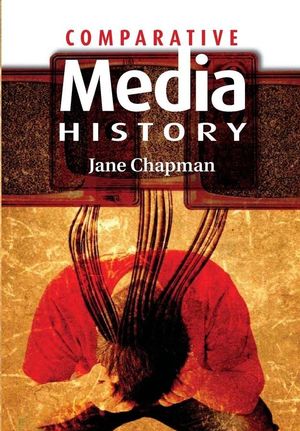 Comparative Media History: An Introduction: 1789 to the Present
ISBN: 978-0-745-63242-1 July 2005 Polity 320 Pages
Description
Comparative Media History is a unique thematic textbook which introduces students to the key ideas underpinning media development. It is an essential first step to a better understanding of both the media industry today and the way in which it evolved over time.





The textbook compares developments and influences from a broad perspective, highlighting and contrasting different countries, industries and periods of history in order to encourage an understanding of cause and effect. In a style which is clear, accessible and provocative, Jane Chapman argues that most of the roots of today's media - even the globalizing impulse - lie in the late 18th and 19th centuries. The book emphasises continuity and certain decisive factors such as the social use of technology, the character of the institutions in which it is applied and the political approach of the specific countries involved.





The comparative element to this book, both across countries and industries, will enable students to reflect on key issues in media studies, including those of diversity, form, method and choice, both past and present. It will become an essential text for any student of the media and its history.


For more information about the book and the author, please see www.janechapman.co.uk
Acknowledgements.
Introduction.
PART 1. ANTECEDENTS, CONTINUITIES AND DISCONTINUITIES.
Chapter 1: Newspapers, Radicalism, Repression and Economic Change, 1789-1847.
Chapter 2: The Focusing of Political Communications and Newspaper Business, 1848-81.
PART 2. POPULARIZATION, INDUSTRIALIZATION AND THE TRIUMPH OF TECHNOLOGY, 1881-1918.
Chapter 3: Commercialization, Consumerism and Technology, 1881-1914.
Chapter 4: Politics, New Forms of Communication and the Globalizing Process, 1881-1918.
PART 3. DISCOVERY AND EXPLOITATION OF THE MASSES FORMULA, 1918-1947.
Chapter 5: The Business and Ideology of Mass Culture, 1918-1939.
Chapter 6: War and Beyond, 1939-1947.
PART 4. THE GLOBAL AGE, 1948-2002.
Chapter 7: Cold War and the Victory of Commercialism, 1948-1980.
Chapter 8: Continuity and Change since 1980.
Notes.
References and Bibliography.
Index
"The user-friendly text—with 'summaries' and 'conclusions' at intervals—will help students to think for themselves. Meanwhile, general readers will find this a clear introduction to a field of history too significant to be left solely to the specialists."
Donald Read, English Historical Review
"In a feat of compression and erudite conciseness, Comparative Media History ranges across several continents and over two centuries of media history to trace the emergence of current international media institutions from past historical traditions. A brilliant textbook for media students, to be ranked alongside Asa Briggs and Peter Burke's A Social History of the Media as a key introduction to comparative media studies."
David Finkelstein, Queen Margaret University College, Edinburgh
"Comparing developments in seven media industries, five countries and across time, this invaluable book's depth and scope seem unmatched in its field. The book promises to reshape thinking and become a touchstone for future research in media history. Indeed, rarely has a book come across my desk that seemed so likely to so profoundly affect scholarship in a field".
Hazel Dicken-Garcia, University of Minnesota


The unique perspective of this book comes from its comparative approach. It deals with material from 5 different countries, whereas the competition focuses purely on either the UK or US.

Includes coverage of every main media industry, including the music and advertising industries, which have been neglected in other studies.

Has been written for lower level undergraduate courses, and no prior knowledge of media history is assumed.

Presents a convincing argument that the roots of the modern media, including their tendency towards globalization, lie in the late 18th and 19th Centuries.