Comparative Religion For Dummies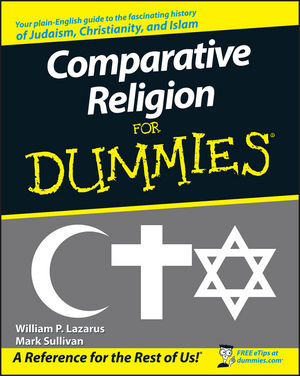 Comparative Religion For Dummies
ISBN: 978-1-118-05227-3
Jan 2011
384 pages
Description
Understand the beliefs, customs, and rituals of each faith
The fun and easy way to know the common elements of these widespread religions
Want to know more about the faiths of Judaism, Christianity, and Islam? This plain-English guide traces their evolution from their commonorigin - Abraham - and explains their different, yet linked, beliefs.You'll see how each religion developed, endured setbacks, and became a fixture in modern society - and you'll learn how members havedeveloped similar approaches to worship.
Discover:
How the belief in one God originated
The roots of Abraham's family tree
The sacred texts of each faith
Major similarities and differences
How these religions influenced the world
Introduction.
Part I: History Is a Happening Thing.
Chapter 1: One God, Three Faiths.
Chapter 2: Following Abraham's Path.
Part II: The Development of Judaism, Christianity, and Islam.
Chapter 3: Judaism: Oy Vey, What a History!
Chapter 4: Judaism Finds God in Everything.
Chapter 5: Jesus and the Origins of Christianity.
Chapter 6: Christian Beliefs and Practices.
Chapter 7: The Birth of Islam: The Prophet Submits to Allah.
Chapter 8: Islam: Submission of the Faithful.
Part III: Shared Aspects of the Faiths.
Chapter 9: Reading the Holy Words.
Chapter 10: Houses of Prayer.
Chapter 11: Religious Leaders: Keeping the Faith.
Chapter 12: Sacred Sites.
Chapter 13: Thy Kingdom Come: The Messiah Concept.
Chapter 14: Holy Catastrophe: End of the World.
Part IV: Shared Ideas Among the Faiths.
Chapter 15: Dealing with Sin.
Chapter 16: Good Heavens: Life after Death.
Chapter 17: Hell in a Nutshell.
Chapter 18: War and Peace: Why Can't We All Get Along?
Part V: The Part of Tens.
Chapter 19: Ten Misconceptions about Jews, Christians, and Muslims.
Chapter 20: Ten Films Drawn from Biblical Accounts.
Chapter 21: Ten-Plus Ways Religion Influences the World.
Part VI: Appendixes.
Appendix A: Timelines for Religions.
Appendix B: Genealogies.
Index.