Competitive Managed Care: The Emerging Health Care System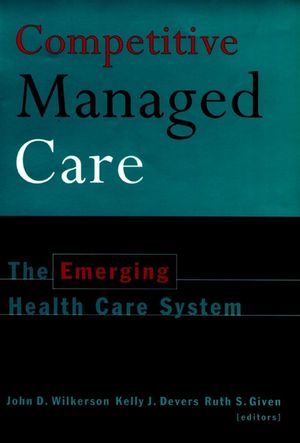 Competitive Managed Care: The Emerging Health Care System
ISBN: 978-0-787-90309-1 September 1996 Jossey-Bass 405 Pages
Description
The Emerging U.S. Health Care System

The first comprehensive assessment of the new managed care and its potential for addressing the health delivery problems facing the nation.
--Stephen M. Shortell, A. C. Buehler, Distinguished Professor of Health Services Management and professor of organization behavior, J. L. Kellogg Graduate School of Management, Northwestern University

A distinguished group of sixteen health care experts identify and assess the challenges and opportunities raised by the U.S.'s emerging competitive health care system. This timely book looks at the managed forms of care that are thriving in today's competitive bottom line
environment. A thoughtful commentary on the major trAnds in health care, this book provides a much needed resource for health care providers and government policymakers.
UNDERSTANDING COMPETITIVE MANAGED CARE.

The Emerging Competitive Managed Care Marketplace (J. Wilkerson, et al.).

Perspectives and Evidence on Efficiency in Managed Care Organizations (H. Luft).

PRIVATE SECTOR INITIATIVES AND RESPONSES.

The Role of Purchasing Groups (L.Bergthold & L. Solomon).

Exercising Purchasing Power for Prevention (H. Schauffler & T. Rodriguez).

The Challenge of Measuring and Monitoring Quality (A. Bindman).

The Future of the Health Professions Under Managed Care (E. O'Neil & L. Finnocchio).

Inside the System: The Patient-Physician Relationship in the Era of Managed Care (H. Waitzkin & J. Fishman).

PUBLIC SECTOR INITIATIVES AND RESPONSES.

Ensuring Competition in the Market for HMO Services (R. Given).

State-Sponsored Health Insurance Purchasing Cooperatives: California's "HIPC" (T. Buchmueller).

Managing the Managed Care Revolution: States and the New Medicaid (M. Sparer).

The Challenges of Implementing Market-Based Reform for Public Clients (K. Devers).

Messing with Medicare: Markets and Politics in the 104th Congress (J. Wilkerson).

Lessons for the United States: Britain's Experience with Managed Competition (D. Light).

Conclusion: The Potential and Limits of Competitive Managed Care.
"Wilkerson, Devers, and Given have developed a timely, well-integrated collection of articles on competitive managed care. This is a very thoughtful treatment of today's health care issues and merits our reading and reflective consideration." --Richard M. Burton, D.B.A., Professor Fuqua School of Business, Duke University, Inquiry

"The first comprehensive assessment of the new managed care and its potential for addressing the health delivery problems facing the nation. Important reading for policymakers, policy analysts, researchers, and students alike." --Stephen M. Shortell, A. C. Buehler, Distinguished Professor of Health Services Management and professor of organization behavior, J. L. Kellogg Graduate School of Management, Northwestern University

?Wilkerson, Devers, and Given have produced a `must-read' text for physician leaders, health managers, and health policymakers and students interested in comparing economic theory and principles with what is actually happening in the competitive managed care marketplace. I found every chapter fascinating and very useful.? --John C. Lewin, executive vice president/CEO, California Medical Association

?A balanced and readable text that unravels the complexity of our government-regulated health care marketplace. By examining the perspectives of important stakeholders through both theory and case study, the well-respected editors and authors explain clearly why neither extreme alone (regulation nor free market) would work in the U.S.? --Alan L. Hillman, associate dean and associate professor, School of Medicine, University of Pennsylvania, Philadelphia