Complementary Medicine for Veterinary Technicians and Nurses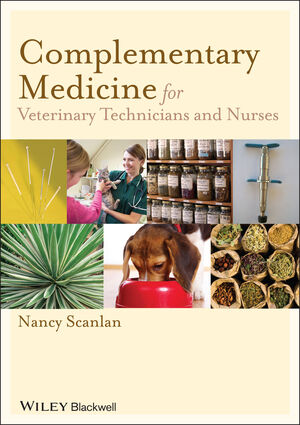 Complementary Medicine for Veterinary Technicians and Nurses
ISBN: 978-0-813-81862-7 March 2011 Wiley-Blackwell 380 Pages
Description
Complementary Medicine for Veterinary Technicians and Nurses is the first resource on holistic veterinary care written specifically for the veterinary technician.    Organized by treatment modality, the book offers practical information designed to help readers develop an understanding of each modality, assist with procedures associated with holistic medicine, and knowledgeably discuss treatment options with clients.   Outlining the respective roles of technicians and veterinarians throughout, this book is a welcome reference for readers looking to expand their knowledge of complementary veterinary medicine and introduce additional treatment options in their practice.
Buy Both and Save 25%!
Original Price:$127.98
Purchased together:$95.98
save $32.00
Cannot be combined with any other offers.
Preface ix
About the Author xi
Introduction xiii
1 What Is Holistic Medicine? 1
2 The Role of the Veterinary Technician or Veterinary Nurse in the Holistic Practice 17
3 Legal Implications 21
4 Introduction to Modalities 27
5 Holistic Training for Veterinary Technicians: Physical Therapy and Hospice Care 37
6 The Touch Therapies 47
7 Detoxifi cation 79
8 Holistic Diet and Nutrition 103
9 Nutraceuticals 123
10 For Veterinarians: Treatments with a Certifi cation Program 173
11 Other Commonly Employed Modalities 217
12 Other Less Commonly Used Modalities 251
Appendices
Appendix 1 Glossary 267
Appendix 2 Alphabetical List of Holistic Veterinary Modalities 271
Appendix 3 Where to Go for More Help 277
Appendix 4 Questions to Help Defi ne the Scope of Your Practice 281
Appendix 5 Patient History Chart 285
Appendix 6 Consent Form 289
Appendix 7 Vaccination Consent Form 293
Appendix 8 Writing Case Reports 297
Appendix 9 Special Diets for Disease Problems 307
Appendix 10 Analysis of Some Homemade Diets 311
Appendix 11 Doses for Herbs 317
Appendix 12 Dosing Schedule for Homotoxicology Formulas 321
Appendix 13 Alphabetical List of Bach Flower Remedies 323
Appendix 14 How to Find a Holistic Veterinarian 325
Appendix 15 Inventory Management 329
Appendix 16 Medicating and Grooming 337
Webliography 345
Index 347
"Complementary Medicine for Veterinary Technicians and Nurses provides a fine resource on holistic veterinary care and is written for vet techs and collections appealing to them."  (Midwest Book Review, 1 May 2012)
"This book has been written primarily for technicians and nurses, however most practitioners will find it a great help." (Tomorrow's Vets, 1 January 2012)
"This book is designed to educate veterinary staff on modalities other than conventional medicine for the treatment of animals. . . It is intended for veterinary technicians, although it is a book that any pet owner could read." (Doody's, 16 September 2011)
"The book will interest veterinarians and technicians who want to explore a broader choice of treatment alternatives and options." (Booknews, 1 June 2011)
·         Offers complementary veterinary medicine information designed specifically for veterinary technicians and nurses
·         Clearly defines the scope of the technician's role in complementary medicine
·         Covers both common and lesser-known holistic modalities
·         Includes historical background, step-by-step procedure guidelines, and practical tips for client communication for each modality
·         Aids technicians in confidently and competently discussing alternative medicine treatment options with clients
·         Provides clinically-relevant patient history and release forms, glossary of terms, quick reference charts and contact information for additional resources and training