Complete Java 2 Certification Study Guide, 5th Edition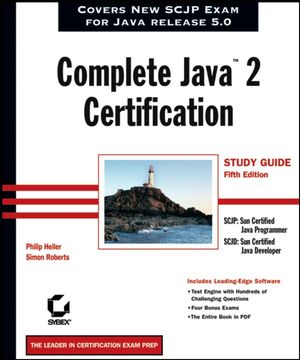 Complete Java 2 Certification Study Guide, 5th Edition
ISBN: 978-0-782-14419-2
May 2005
560 pages
Product not available for purchase
Description
Here's the book you need to prepare for the Java 2 Programmer (SCJP) and Developer (SCJD) exams. This Study Guide was developed to meet the exacting requirements of today's certification candidates. In addition to the consistent and accessible instructional approach that has earned Sybex the reputation as the leading publisher for certification self-study guides, this book provides:
In-depth coverage of every exam objective for the revised SCJP Exam
Hundreds of challenging practice questions
Leading-edge exam preparation software, including a test engine and the entire book on PDF
Authoritative instruction on all revised Programmer exam objectives, including:
Declarations, initialization and scoping
Flow control
API contents
Concurrency
Object-oriented concepts
Collections and generics
Language fundamentals
Detailed discussion of the key topics included in the Developer exam, including:
Swing components and events
Layout managers
Enhancing and extending the database
Writing the network protocol
Building the database server
Connecting the client and server
Introduction.
Assessment Test.
Chapter 1: Language Fundamentals.
Chapter 2: Operators and Assignments.
Chapter 3: Modifiers.
Chapter 4: Converting and Casting.
Chapter 5: Flow Control, Assertions, and Exception Handling.
Chapter 6: Objects and Classes.
Chapter 7: Threads.
Chapter 8: The java.lang and java.util Packages.
Chapter 9: I/O and Streams.
Chapter 10: About the Developer's Exam.
Chapter 11: Swing Components.
Chapter 12: Layout Managers.
Chapter 13: Object Streams and RMI.
Chapter 14: Putting It All Together.
Appendix A: Practice Exam.
Glossary.
Index.
Chapter
Page
Details
Date
Print Run
Combined Errata


Page 0CD

The password for the ebook is located on page xxii not xxiv.

Page 9

Text Correction, Table 1.4: The size of "double" should be "64 bits" instead of "16 bits".

Page 18

Fifth line from the bottom:
"import static measure.Scales.poundsToMicrograms();" is in error.
Remove the parentheses before the final semicolon, so the line reads "...poundsToMicrograms;"

Page 33

Question 18: The answer should be A and C. Replace the explanation given with the following:
"A legally assigns a literal numeric value to a char. To assign a literal unicode value, the literal must be enclosed in single quotes as in C."

Page 62

Line 2: "The expression 1 ? 2,..."
Should read: "The expression 1 + 2,..."

Page 69:

Answer to Question 4:

Last sentence: "C is illegal..." should read "D is illegal..."

Page 77:

Change the 2nd & 3rd bullet items. The 2nd item should read, in its entirety, "A class may read and write protected fields that it inherits from its superclass. This must be done through a reference of the subclass type, not of the superclass type".
-Replaces text as printed: "An instance may read and write protected fields that it inherits from its superclass.However, the instance may not read or write protected inherited fields of other instances." The 3rd bullet item should read, in its entirety, "A class may call protected methods that it inherits from its superclass. This must be done through a reference of the subclass type, not of the superclass type".
-Replaces text as printed: "An instance may call protected methods that it inherits from its superclass. However, the instance may not call protected methods of other instances."

Page 96

Question 13:
Change the text of answer D. to read:
"If the class is declared abstract, it will compile but it may not be instantiated."

Page 99

Answer to Q13:
Correct answers are A, C, D; not C, D, as written. The explanation remains correct.

Question 14: Change "can be declared" to "can all be declared" Delete "Variables cannot."

Answer 17: "A.. An object may call a protected method that it inherits a method from a superclass in a different package." -Replaces text as printed: "B. An object that inherits..."

Page 107

Text Correction, page 107, end of paragraph: "This relaxation of the rule applies only when the assigned value is an integral literal. Thus the second line of the following code wil not compile." Should be: "This relaxation of the rule applies only when the assigned value is an integral literal or final. Thus the second line of the following code will not compile." (Add "or final at end of first sentence.)

107, cont.
Text Correction:
The last line of code under "Assignment Conversion etc." (Heading on pg. 106):
"byte b = I" should read: "byte b = i;"



Page 126

Test Correction #2, page 126, Question 20, in the question body, change both occurrences of "conversion" to "conversion of references".

Page 128

Test Correction #1, page 128, Answer to question 12 is d (instead of e; no e present in question).

Page 148

Text Correction, Page 148: public PhaserBankException(String message, Throwable cause) implementation should be "super(message, cause);" and not "super(message);"

Chapter 5 Review Questions, page 157

In option C, line 2, change comma after "k=0" to a semicolon.

Page 165

Text Correction: Number 10 answers are "B, D" instead of "A, B, D."

Page 175

Text Correction: "14. printRJ(", w);" should instead read "14. printRJ ("+i, w);"




Page 194
Text Correction:
The fourth line of code: "Point3D that = (Point3D ob);" should read:
"Point3D that = (Point3D) ob;"



Page 211

Answer to Question 10: A, C, E.
Change the first sentence of the explanation to read: "A is legal because the enum body contains nothing except the list of constant nams, so no semicolon is required."



Page 277

Text Correction:
line 8: "Object first() Returns..." should read
"Object firstKey() Returns..."




Page 278

Text Correction:
2nd line of code beneath boxed text: "static Object min(Collection c) Returns the maximum element..." should read
"static Object min(Collection c) Returns the minimum element..."




Page 293

Text Correction:
Paragraph 7, 2nd line: "So, for example, the expression "(ab)*" matches one or more occurences..." should read
"So, for example, the expression "(ab)*" matches zero or more occurences..."




Page 300

Text Correction:
last line of code: "getInstance(Locale loc)" should read
"getCurrencyInstance(Locale loc)"




Page 307, Question 12
Change the line of code in the question:
"Map<String> names = new HashMap<String&gt()" to:
"Set<String> names = new HashSet<String&gt()"

Page 335 Text Correction:
The second-to-last line of code, at the bottom of the page:
"Import java.io.*;" should read "import java.io.*;"
(Replace uppercase "I" with lowercase "i")

Page 337
Text Correction:
The last line of code:
"balance = ((Float)inStream.readObject()).floatValue();" should read:
"balance = (Float)inStream.readObject();"

---

Correct Password for PDF
The correct password to unlock the PDF is "appear".
03/10/2006

---

CD-ROM
Combined Bonus Exam Errata


Bonus Exam 1

Question 12:
Given the following:
public abstract class Abby {
&nbspabstract provideMe();
}

Should read:

Given the following:
public abstract class Abby {
&nbspabstract void provideMe();
}

Question 15: The correct answer, C, is given as "\\+". It should be "\\d+".

Question 31: The given answer is BD. It should be ABD

Question 35: Answer D: assert x==4 : x is not 4" should read
assert x==4 : "x is not 4"

Question 44: The given answer is B. It should be A.




Bonus Exam 2

Question 25: For each instance of "thisThread" substitute "aThread". For each instance of "thatThread" substitute "bThread".




Bunus Exam 4

Question 2: The answer given is B. It should be A.

Question 9: The answer given is DE. It should be AD.

Question 10: The answer given is BD. C is also correct. The answer should be BCD.

Question 28: Answers D and E are identical. Change E to read:
assert !=4 ; "x is not 4"

11/28/07

---