Complexities of Higher Education Administration: Case Studies and Issues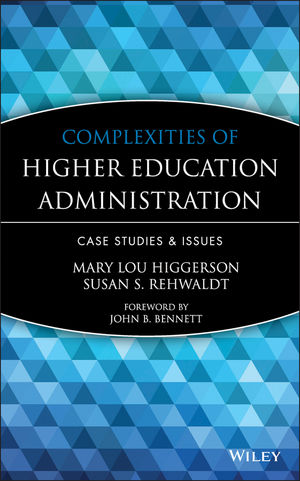 Complexities of Higher Education Administration: Case Studies and Issues
ISBN: 978-0-962-70427-7 June 1993 252 Pages
Description
Complexities of Higher Education Administration

Based on extensive experience in administration, in teaching, and in running workshops for administrators, the authors have assembled a collection of cases focused on topics common to academic administration. This book:
* offers sixteen generalized cases based on real situations
* combines higher education administration and communication theory
* includes indices for selecting cases by institution type, level and constituency, issues and tasks, and communication skills
* is a valuable resource for practicing administrators
* is an ideal text for graduate courses in educational administration, organizational communication, and management.
About the Authors.
Foreword.
Preface.
Indices.
Higher Education Issues and Administrative Tasks.
Communication Skills.
Administrative Level and Constituency Group.
Institution Type.
Introduction.
1. Mirror, mirror on the wall. . .
2. Statics, tensions and abrasions.
3. Competitors or partners?
4. Publish or perish.
5. Transitions.
6. An exceedingly chilly climate.
7. An open and shut case.
8. Hindsight is 20/20.
9. Supervisor's dilemma.
10. The new mandate: Assess!
11. Puzzle pieces.
12. Silence gives license.
13. An attempt to finese.
14. Domino effect.
15. Who's on first?
16. Whose decision is this anyway?
Bibliography.