Complications in Cardiothoracic Surgery: Avoidance and Treatment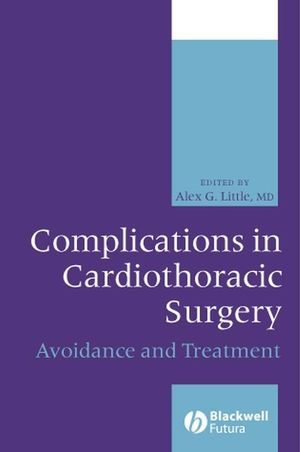 Complications in Cardiothoracic Surgery: Avoidance and Treatment
ISBN: 978-0-470-99406-1 April 2008 Wiley-Blackwell 464 Pages
Description
It is the practical experience gained in the operating room and on the wards dealing with complications and deviations from the typical or average scenario that matures and fully develops a surgeon. The typical textbook demonstrates the "right" or standard way to do things and the implicit assumption is that if these guidelines are followed then the patient and the surgeon's life will be complication free. Good results come from experience and experience is gained by making mistakes. The goal of this book is to minimize the frequency of surgical complications and maximize the outcome when they do occur by allowing the reader to learn from the operative and clinical experience of those who have gone before so that each generation can collectively stand on the shoulders of the preceding generation without the need to learn from one's own complications.
This book is therefore designed less to address indications for operations than how to carry them out and provide postoperative care without complications. While the authors of the various chapters address the correct or right way to perform operations and care for patients after surgery, they have also been tasked to address and emphasize specific dos and don'ts for both intraoperative techniques and postoperative care that will reduce the incidence of complications. As some complications, alas, are inevitable, also addressed are the issues of timely recognition and appropriate treatment of complications when they do occur despite best efforts.
Table of contents
List of Contributors.
Acknowledgements.
Preface.
1 Preventing Complications: New Frontiers of Safety Science in Cardiothoracic Surgery (Paul N Uhlig, William R Berry, Ellen W Raboin, Jeffrey Brown, Joel T Erskin, Ann Hendrich and Daniel B Raemer).
2 Thoracic Incisions (Michael F Reed).
3 Arrhythmias following Cardiac and Thoracic Operations (Joseph LoCicero, III).
4 Complications of Cardiopulmonary Bypass and Cardioplegia (Lawrence L Creswell and Nicholas J Karis).
5 Myocardial Protection: Why and How (Constantine L Athanasuleas and Gerald D Buckberg).
6 Complications after Pulmonary Resection: Lobectomy and Pneumonectomy (Mark F Berry and Thomas A D'Amico).
7 Complications of Tracheobronchial Resection (Michael C Coello and Douglas J Mathisen).
8 Complications of Lung Volume Reduction Surgery (Nirmal K Veeramachaneni and Bryan Meyers).
9 Complications of Lung Transplantation (Paul F Waters).
10 Complications of Esophageal Resection (Subroto Paul and Nasser K Altorki).
11 Complications of Minimally Invasive Esophagectomy (Arjun Pennathur and James D Luketich).
12 Operations for Benign Esophageal Disorders (Keith S Naunheim).
13 Complications of Mediastinal Procedures (Cameron D Wright).
14 Complications of Pleural Operations and Procedures (Alberto de Hoyos).
15 Complications from Chest Wall Procedures (Mark S Allen).
16 On-Pump Coronary Artery Bypass Grafting (Jennifer S Lawton and William A Gay, Jr).
17 Off-Pump Coronary Artery Surgery: A Safe Approach (Jain Bhaskara Pillai and John D Puskas).
18 Valvular Operations (Frederick Y Chen, Lawrence S Lee and Lawrence H Cohn).
19 Complications of Myocardial Reconstruction (Gorav Ailawadi and Irving L Kron).
20 Complications after Atrial Fibrillation Surgery (Anson M Lee and Ralph J Damiano Jr).
21 Heart Transplantation (William Stein IV, Jeffrey B Velotta, Hari R Mallidi, Michael P Fischbein and Robert C Robbins).
22 Assist Devices (Sanjeev Aggarwal and Francis D Pagani).
23 Aortic and Great Vessel Operations (William M Boedefeld and John A Kern).
Index.
Features


The goal of this book is to minimize the frequency of surgical complications and to maximize the outcome when they do occur by allowing the reader to learn from the operative and clinical experience of those who have gone before

This book is therefore designed less to address indications for operations than how to carry them out and provide postoperative care without complications