Complications in Vascular and Endovascular Surgery, Part I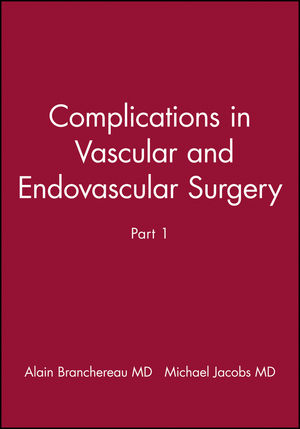 Complications in Vascular and Endovascular Surgery, Part I
ISBN: 978-0-879-93480-4 August 2001 Wiley-Blackwell 283 Pages
Description
Complications in Vascular and Endovascular Surgery, Part I, edited by Alain Branchereau, MD and Michael Jacobs, MD, and written by leading international experts in their fields, closely examines possible complications following surgery of the cerebrovascular arteries, the thorax and upper limbs, and other commonly operated sites. Various complications (both common and uncommon) are identified and described, along with discussions of how to treat, and better yet, prevent them. Results of clinical trials are presented, as well as the personal experience of dozens of contributing authors.
Clinical and surgical specialists interested in vascular and endovascular surgery, as well as any physician, surgeon, or medical professional involved in the vascular field will benefit from this detailed, current review.
Table of contents
1. Definition and analysis of complications in relation to the benefits of treatment -
D.A. Legemate, J.G. Tijssen.
2. Management of cardiac disease and cardiac risk in the vascular atherosclerotic patient - G. Habib.
3. Hypercoagulable states and unexplained vascular thrombosis - F.A. Bontempo, M.R. Kibbe, M.S. Makaroun.
4. Graft healing and graft incorporation - N. Chakfé et al.
5. Dilatation and durability of polyester grafts - G. Riepe, N. Chakfé, M. Morlock, H. Imig.
6. Adaptive changes in vein grafts in the arterial circulation - J.T. Powell.
7. Mechanisms and prevention of myointimal hyperplasia - J.S. Refson, J.H.N. Wolfe.
8. Postoperative arterial infection: Epidemiology, bacteriology and pathogenesis - R. Chiesa et al..
9. Prevention and treatment of arterial graft infections - O. Goëau-Brissonnière, M. Coggia.
10. Renal complications after enhanced contrast media injection - H.S. Thomsen, S.K. Morcos.
11. Renal failure following reconstructive vascular surgery - G. Hamilton.
12. Vascular complications after kidney transplantation - A. Clará et al..
13. Neurologic complications of carotid artery surgery - R. Ayari, B. Ede, M.l Bartoli, A. Branchereau.
14. Critical aspects of cerebrovascular protection and monitoring during carotid surgery - J-M. Jausseran et al.
15. Cranial nerve injury after carotid artery surgery - M. D'Addato, M. Mirelli.
16. Recurrent carotid stenosis - P. Cao, P. de Rango, G. Carlini, S. Zannetti.
17. Complications of reconstructive surgery of the vertebral and subclavian arteries - E. Rosset, et al.
18. Complications of percutaneous carotid artery angioplasty - A. Nevelsteen, H. Lacroix, G. Maleux.
19. Complications of supra-aortic arterial endovascular interventions - P.A. Gaines.
20. Complications of stent-graft placement in the thoracic aorta - T.C. Rehders, C.A. Nienaber.
21. Complications of open surgery of the aortic arch - R. Hetzer, M. Pasic.
22. Complications of descending thoracic aortic surgery - M. Jacobs, T. Elenbaas, G-W. Schurink, B. de Mol, B. Mochtar.
23. Postoperative stroke associated with non-cerebrovascular surgery - M.A.A.M. Schepens, W-J. van Boven.
24. Complications of vascular access for hemodialysis - J.H.M. Tordoir, F. van de Sande, K.M.L. Leunissen.
25. Complications of surgical treatment for thoracic outlet syndrome - Alain Carlier, R. Limet.
26. Complications and side effects with endoscopic thoracic sympathicotomy - L. Rex, C. Drott.
27. Complications after reconstructive surgery of the main venous trunks - P. Gloviczky et al.
28. Complications of vena caval filter procedures - H. Lorch.
29. Complications of surgery for varicose veins - C.D. Liapis, J.D. Kakisis.
Reviews
"The topics are distinctly relevant for any physician treating patients with vascular disease. Surgeons interested in recognizing, treating, and preventing complications in vascular surgery will derive the most benefit from the book. The editors are recognized authorities in the field and have gathered an experienced group to address the subject matter....
"The authors thoughtfully introduce important terms that are unfamiliar to many physicians and challenge the reader to think about complications from a unique perspective. Chapters on prosthetic graft durability and infection offer useful insight into this difficult problem...A chapter dedicated to complications in the endovascular treatment of carotid stenosis is especially timely in dealing with this controversial technique.
"Overall, the chapters are concise and complete, including tables that clearly represent the issues. The expert authors often provide data from their own investigation adding a unique insight into the current understanding and management of complications in vascular surgery. The book is well illustrated and includes a valuable list of references."

Doody's Review Service