Component-Based Development with Visual C#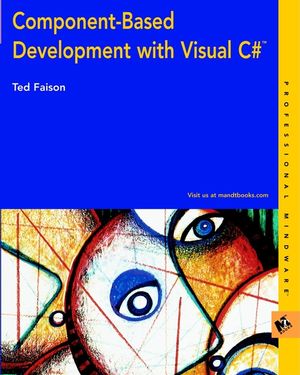 Description
This tutorial guide provides information on how to design, debug, and deploy applications using component-based development and the new development tool from Visual Studio.NET -- Visual C#. Visual C# provides power and speed in an object-oriented environment so developers can create and deploy flexible applications quickly. The author also explains how to develop a wide variety of components, such as web controls, data access, enterprise level components, file service, multithreaded components, accessibility components, and more.
Preface.
Acknowledgments.
Part I: General Topics.
Chapter 1: The Development Process.
Chapter 2: Component Structure.
Chapter 3: Component Design.
Chapter 4: Component Classifications.
Chapter 5: Debugging.
Chapter 6: Deployment.
Part II: Front-End Components.
Chapter 7: Windows Form Components.
Chapter 8: Creating Front Ends with the WebBrowser Component.
Chapter 9: Custom Controls.
Chapter 10: User Controls.
Chapter 11: Database Front Ends.
Chapter 12: Tips for the Front End.
Part III: Middle-Tier Components.
Chapter 13: Web Forms.
Chapter 14: Web Controls.
Chapter 15: User Controls.
Chapter 16: Services.
Chapter 17: Security.
Part IV: Back-End Components.
Chapter 18: The ADO.NET Architecture.
Chapter 19: Database Web Services.
Chapter 20: Multithreaded Components.
Chapter 21: Gateway Services.
Appendix: Bibliography.
Index.
Companion Site
Bonus Content
Download the book's zip file to your system and then unzip it into a new folder using WinZip. The unzip process will create a number of folders for each chapter in the book. For example, if you unzipped the file into the folder c:\CSharpBook, you would wind up with the following folders:
C:\CSharpBook
Chapter 07
Chapter 08
Chapter 09
Chapter 10
Chapter 11
Chapter 12
Chapter 13
Chapter 14
Chapter 15
Chapter 16
Chapter 17
Chapter 18
Chapter 19
Chapter 20
Chapter 21
In each chapter folder, you will see a separate folder for each sample program in that chapter. Chapters 1-6 don't contain any sample programs.
Before trying the sample programs in Chapters 13-21, you need to build all the programs for those chapters, because some of the samples are interrelated.
For further information on setting up the Web examples in Chapters 13-21, see the Readme.doc file in the main installation folder. For example, if you unzipped the sample code into the folder c:\CSharpBook, the Readme.doc file will be in that folder. You will need Microsoft Word to open the Readme.doc file.