Composite Structures of Steel and Concrete: Beams, Slabs, Columns, and Frames for Buildings, 3rd Edition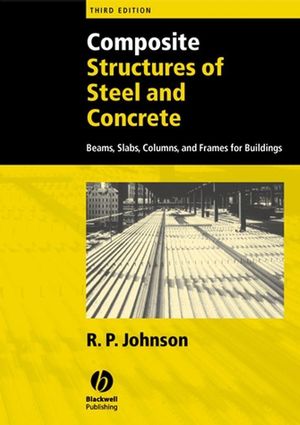 Composite Structures of Steel and Concrete: Beams, Slabs, Columns, and Frames for Buildings, 3rd Edition
ISBN: 978-1-405-10035-9 October 2004 Wiley-Blackwell 252 Pages
Description
This book sets out the basic principles of composite construction with reference to beams, slabs, columns and frames, and their applications to building structures. It deals with the problems likely to arise in the design of composite members in buildings, and relates basic theory to the design approach of Eurocodes 2, 3 and 4.

The new edition is based for the first time on the finalised Eurocode for steel/concrete composite structures.
Design philosophy and the Eurocodes: materials, loadings, analysis, design; Shear connection in beams and columns; partial interaction; Simply-supported composite slabs and beams; Continuous beams and slabs, and beams in framed structures; Composite columns, beam-to-column joints, and frames; Worked examples to the Eurocodes: slab, beams, joint, columns, frame, including fire resistance
'A very useful book written by an acknowledged authority on its subject....Professor Johnson has been heavily involved in the drafting of the composite Eurocode...so one can have confidence that this book provides authorative guidance.'
The Structural Engineer April 2005.

'This book gives a clear and concise explanation of the theories and practical application of stell/ concrete composite construction for the budding and practising structural engineer.' Building Engineer August 2005
* first edition to be based on the Eurocode for composite structures
* practising engineers will need to start designing to Eurocode 4 and this book will help
* author is chairman of the Eurocode 4 drafting committee
* features a new set of worked examples