Comprehensive Handbook of Multicultural School Psychology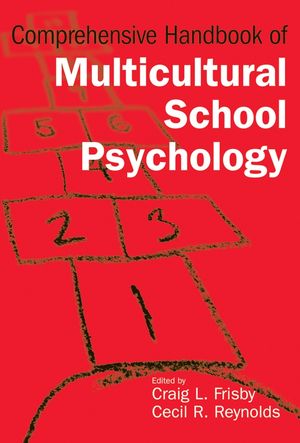 Comprehensive Handbook of Multicultural School Psychology
ISBN: 978-0-471-26615-0
Aug 2005
1200 pages
Description
A comprehensive guide to current information about multicultural issues, science, and practice in school psychology

Today's schools are characterized by wide variations in students' ethnic, racial, language, religious, socioeconomic, and geographical characteristics. Cultural issues pervade all aspects of psychological practice as applied to school effectiveness, classroom learning and instruction, academic achievement, student behavior, and mental health. School psychologists and related personnel must apply critical thinking skills in successfully meeting the needs of an increasingly diverse student population, while working effectively with school personnel to maximize learning for all students. The Comprehensive Handbook of Multicultural School Psychology highlights the latest research in this area and offers practical information on integrating issues of cultural diversity into research and practice.

This new resource is the first text of its kind to examine the pervasive influence of culture on all aspects of school psychology, including child development, psychometrics, and interventions. Thought-provoking and practical, yet grounded in empirical research, this text covers:
Conceptual, philosophical, and sociopolitical foundations of multicultural school psychology
Cultural variation within American subgroups
Educational and psychological foundations of culture, individual differences, and schooling
Testing, assessment, and intervention issues
Training and legal issues
International school psychology
Featuring contributions from the world's leading scholars in this area, this definitive resource is required reading for all current and future school psychologists, as well as counselors, teachers, and administrators working in school settings.
Buy Both and Save 25%!
Original Price:$306.00
Purchased together:$229.50
save $76.50
Cannot be combined with any other offers.
Contributors.
External Reviewers.
Acknowledgments.
Preface (Craig L. Frisby and Cecil R. Reynolds, Editors).
Part I: PERSPECTIVES ON MULTICULTURAL SCHOOL PSYCHOLOGY.
1. Commentary #1: What Is Multicultural School Psychology? (Thomas Oakland).
2. Commentary #2: What Is Multicultural School Psychology? (John H. Jackson).
3. Commentary #3: What Is Multicultural School Psychology? (Irwin Hyman, with Erin McLaughlin).
4. The Politics of Multiculturalism in School Psychology: Part 1 (Craig L. Frisby).
5. The Politics of Multiculturalism in School Psychology: Part 2 (Craig L. Frisby).
Part II: CULTURAL VARIATION WITHIN AMERICAN SUBGROUPS.
6. Cultural Variation Within American Families of African Descent (Frank C. Worrell).
7. Cultural Variation Within Southeast Asian American Families (Paoze Thao).
8. Cultural Variation Within European American Families (David G. LoConto and Amy D. Francis).
9. Cultural Variation Within Hispanic American Families (Cristy Lopez, Vera Lopez, Lourdes Suarez-Morales, and Felipe Gonzalez Castro).
10. Cultural Variation Within East Asian American Families (Jina S. Yoon and Li-Rong Lilly Cheng).
Part III: EDUCATIONAL FOUNDATIONS.
11. Effective Schools for All: ABrief History and Some Common Findings (William E. Bickel and A. Alexander Beaujean).
12. The Effectiveness of Bilingual Education Programs in the United States: A Review of the Empirical Literature (Salvador Hector Ochoa).
13. Challenges in Urban and Rural Education (Stephen D. Truscott and Diane M. Truscott).
14. Religion, Culture, and Schooling (J. Mark Halstead).
15. AReview and Critique of Multicultural Learning Styles (Harrison Kane and Candace H. Boan).
16. Multicultural Influences on School Learning: Similarities and Differences Across Groups (Timothy Z. Keith and Jodene Goldenring Fine).
17. Effective Instruction for At-Risk Minority Populations (Amanda M. VanDerHeyden and Matthew K. Burns).
Part IV: PSYCHOLOGICAL FOUNDATIONS.
18. Implications of Cognitive Differences for Schooling Within Diverse Societies (Linda S. Gottfredson).
19. The Search for Self: Racial/Ethnic Identity Development (Dahl Rollins and Cynthia A. Riccio).
20. Self-Esteem, Ethnicity, and Academic Performance Among American Children (Byron M. Roth).
21. Religiosity in Children and Youth: Psychoeducational Approaches (Sandra Leanne Bosacki).
22. Theory and Research in Acculturation and School Adjustment (Fons J. R. van de Vijver).
23. International Cross-Cultural Consistencies and Variations in Child and Adolescent Psychopathology (Thomas M. Achenbach, Leslie A. Rescorla, and Masha Y. Ivanova).
24. Multicultural Perspectives on Delinquency Among African-American Youths: Etiology and Intervention (Richard E. Redding and Bruce Arrigo).
25. Teen Pregnancy, Substance Abuse, and Violent Criminality (K. D. Breault and Cynthia Trail).
26. Psychological Effects of Armed Conflict and Community Violence (Stacy Overstreet and Arleen Cerbone).
Part V: TESTING, ASSESSMENT, AND INTERVENTION ISSUES.
27. Methods for Assessing Cultural Bias in Tests (Cecil R. Reynolds and Andrew D. Carson).
28. Nonbiased Assessment: A Supplemental Approach (James C. Kaufman).
29. Applied and Theoretical Contributions of Neuropsychology to Assessment in Multicultural School Psychology (Sarika A. Peters, Jeanette L. Fox, Deborah A. Weber, and Antolin M. Llorente).
30. Psychometric Issues in the Measurement of Acculturation (Kim Ryan-Arredondo and Jonathan Sandoval).
31. Translation and Adaptation Issues and Methods for Educational and Psychological Tests (Ronald K. Hambleton and Shuhong Li).
32. Ecobehavioral Assessment and Intervention for Culturally Diverse At-Risk Students (George H. Noell, Donna N. Gilbertson, Amanda M. VanDerHeyden, and Joseph C. Witt).
33. Health-Related Issues Among Ethnic Minority and Low-Income Children: Psychoeducational Outcomes and Prevention Models (LeAdelle Phelps).
34. Treatment Acceptability and Treatment Compliance in Ethnic Minority Populations (Jennifer Boothe, Joaquin Borrego Jr., Crystal Hill, and Karla Anhalt).
35. Successful Community Programs for Youth in Multicultural Environments (Kristin A. Gansle and Rene Pogue).
Part VI: TRAINING AND LEGAL ISSUES.
36. Multicultural Training in School Psychology (Margaret R. Rogers).
37. A Critique of Multicultural Training in School Psychology: Rationale, Strategies, and Tactics (Jeffery P. Braden and Ketki G. Shah).
38. Selected Legal Issues Affecting Students from Multicultural Backgrounds (Thomas Oakland and Elena M. Gallegos).
Part VII: INTERNATIONAL SCHOOL PSYCHOLOGY.
39. School Psychology in Four English-Speaking Countries: Australia, Canada, New Zealand, and the United States (Thomas Oakland, Michael Faulkner, and Jean Annan).
40. The Growth and Development of School Psychology in Hong Kong (Shui-fong Lam).
41. School Psychology in Sub-Saharan Africa: Results and Implications of a Six-Country Survey (Elias Mpofu, Karl Peltzer, Almon Shumba, Robert Serpell, and Andrew Mogaji).
Author Index.
Subject Index.