Comprehensive Handbook of Personality and Psychopathology , Volume 2 , Adult Psychopathology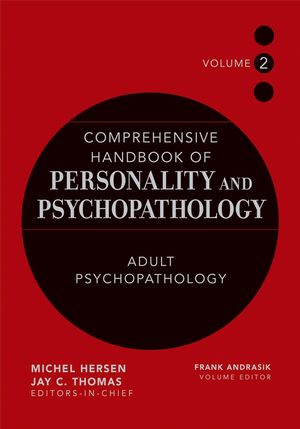 Comprehensive Handbook of Personality and Psychopathology , Volume 2 , Adult Psychopathology
ISBN: 978-0-471-48838-5 November 2005 560 Pages
Description
Adult Psychopathology presents an overview of the classification and diagnosis; epidemiology; genetic, sociocultural, and biological influences; and research and behavioral considerations of psychopathology in adults. This state-of-the-art volume also includes the latest research on the major disorders and discusses the three most popular treatment approaches.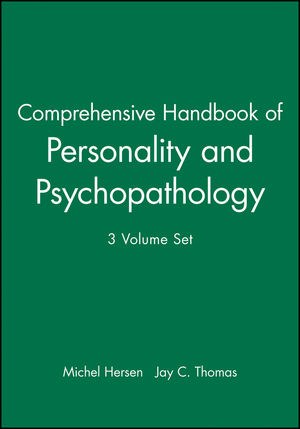 Original Price:$930.00
Purchased Together:$800.00
save $130.00
VOLUME 2
Handbook Preface.
Preface. to Volume 2.
Contributors.
PART I: GENERAL ISSUES.
1. Diagnosis and Classification (James Langenbucher and Peter E. Nathan).
2. Research Considerations (Laura Campbell-Sills and Timothy A. Brown).
3. Behavioral and Cognitive Influences (Arthur M. Nezu, Christine Maguth Nezu, and Elizabeth R. Lombardo).
4. Genetic Influences (Kerry L. Jang).
5. Sociocultural Influences (Dorothy Chin and Velma A. Kameoka).
6. Biological Influences (Beverly E. Thorn and Kristine L. Lokken).
PART II: MAJOR DISORDERS AND PROBLEMS.
7. Generalized Anxiety Disorder (Marilyn Holmes and Michelle G. Newman).
8. Panic and Agoraphobia (Jasper A. J. Smits, Conall M. O'Cleirigh and Michael W. Otto).
9. Social Anxiety Disorder (Meredith E. Coles and Betty Horng).
10. Specific Phobias (Karen Rowa, Randi E. McCabe and Martin M. Antony).
11. Obsessive-Compulsive Disorder (David S. Riggs and Edna B. Foa).
12. Post-Traumatic Stress Disorder (Richard A. Bryant).
13. Major Depressive Disorder (Michael E. Thase).
14. Dysthymia and Minor Depression (Karen B. Schmaling and Dolores V. Hernandez).
15. Bipolar Disorder (Cory F. Newman).
16. Schizophrenia (Kim T. Mueser and Elisa Bolton and Susan R. McGurk).
17. Organic Mental Disorder (Russell D. Pella, Benjamin D. Hill, Holly R. Garcie and Drew Gouvier).
18. Borderline Personality Disorder (Timothy J. Trull, Stephanie D. Stepp and Marika Solhan).
19. Other Personality Disorder (Kenneth N. Levy and Lori N. Scott).
20. Alcohol Abuse and Dependence (Marilyn J. Strada, Jennifer Karmely and Brad Donohue).
21. Drug Abuse and Dependence (Brad Donohue, Alisha M. Farley and Samantha L. French).
22. Gambling and Impulse Disorders (Alex Blaszczynski and Lia Nower).
23. Eating Disorders (Eric Stice, Joanne Peart, Heather Thompson-Brenner, Erin Martinez and Drew Westen).
24. Psychophysiological Disorders (Frank Andrasik).
25. Sexual Dysfunction (Eric W. Corty).
26. Sexual Deviation (William D. Murphy and I. Jacqueline Page).
27. Marital Dysfunction (Steven R. H. Beach and Charles Kamen and Frank Fincham).
PART III: TREATMENT APPROACHES.
28. Psychodynamic Psychotherapy (Steven K. Huprich and Rachel A. Keaschuk).
29. Cognitive Behavioral Treatment (Alisa R. Singer and Keith S. Dobson).
30. Pharmacological Interventions (Timothey C. Denko and Michael E. Thase).
Author Index.
Subject Index.