Comprehensive Handbook of Personality and Psychopathology , Volume 3 , Child Psychopathology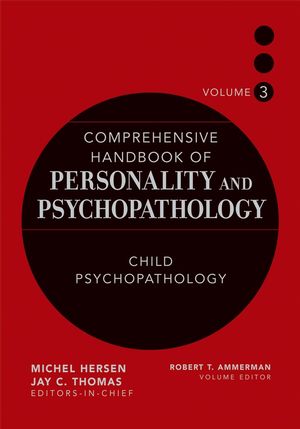 Comprehensive Handbook of Personality and Psychopathology , Volume 3 , Child Psychopathology
ISBN: 978-0-471-48839-2 November 2005 512 Pages
Description
Child Psychopathology presents an overview of the classification and diagnosis; genetic, sociological, and neuropsychiatric influences; and research and behavioral considerations of psychopathology in infants and children. This state-of-the-art volume also includes the latest research on the major childhood disorders and discusses the three most popular treatment approaches.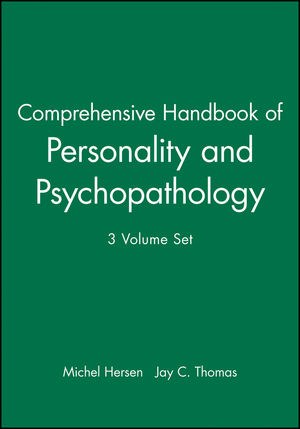 Original Price:$930.00
Purchased Together:$800.00
save $130.00
VOLUME 3.
Handbook Preface.
Preface to Volume 3.
Contributors.
PART I: GENERAL ISSUES.
1. Diagnosis and Classification (L. Faul & A. Gross).
2. Genetic Contributions (D. Dick & R. Todd).
3. Neuropsychiatric Contributions (R. Brumback & C. Coffey).
4. Cognitive and Behavioral Contributions (B. Donohue, et al.).
5. Sociological Contributions (T. Wade & J. Cairney).
6. Temperament in Early Development (S. Calkins & K. Degnam).
7. Infant Mental Health (M. Gleason & C. Zeanah).
8. Development Psychopathology (G. Kuperminc & K. Brookmeyer).
PART II: MAJOR DISORDERS AND PROBLEMS.
9. Generalized Anxiety Disorder (J. Robin, et al.).
10. Social Anxiety Disorder (R. Ammerman & K. McGraw).
11. Post-Traumatic Stress Disorder (M. Runyon, et al.).
12. Major Depression (J. Garber & J. Smith).
13. Bipolar Disorder (R. Kowatch).
14. Mental Retardation (J. Bebko & J. Weiss).
15. Pervasive Development Disorders (B. Siegel & M. Ficcaglia).
16. Learning Disorders (J. Loomis).
17. Oppositional Defiant Disorder (R. Greene & J. Ablon).
18. Conduct Disorder (P. Frick & E. Kimonis).
19. Attention-Deficit Hyperactivity Disorder (J. Stevens & J. Ward-Estes).
20. Eating Disorders (E. Stice, et al.).
21. Substance Use Disorders (E. Wagner & A. Austin).
22. Child Physical Abuse and Neglect (D. DiLillo, et al.).
23. Child Sexual Abuse (A. Mannarino & J. Cohen).
24. Somatization Disorders (B. Bursch & J. Thomas).
PART III: TREATMENT APPROACHES.
25. Psychodynamic Treatments (S. Russ).
26. Cognitive Behavioral Treatments (J. Durlak).
27 Pharmacological Treatments (S. Pathak).
Author Index.
Subject Index.