Comprehensive Handbook of Psychological Assessment, Volume 3: Behavioral Assessment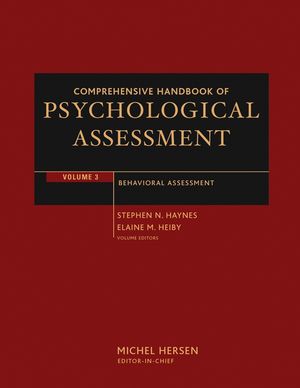 Comprehensive Handbook of Psychological Assessment, Volume 3: Behavioral Assessment
ISBN: 978-0-471-41613-5
Sep 2003
544 pages
Description
In one volume, the leading researchers in behavioral assessment interpret the range of issues related to behavioral tests, including test development and psychometrics, clinical applications, ethical and legal concerns, use with diverse populations, computerization, and the latest research. Clinicians and researchers who use these instruments will find this volume invaluable, as it contains the most comprehensive and up-to-date information available on this important aspect of practice.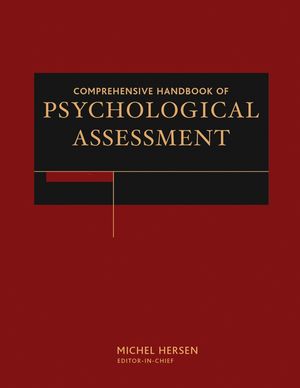 Original Price:$1,125.85
Purchased Together:$1,099.95
save $25.90
Handbook Preface.
Contributors.
SECTION ONE: INTRODUCTION TO BEHAVIORAL ASSESSMENT.
1. INTRODUCTION TO BEHAVIORAL ASSESSMENT (Elaine M. Heiby and Stephen N. Haynes).
2. BEHAVIORAL ASSESSMENT: HISTORY OF UNDERLYING CONCEPTS AND METHODS (Thomas H. Ollendick, Heather K. Alvarez, and Ross W. Greene).
SECTION TWO: CONCEPTUAL FOUNDATIONS OF BEHAVIORAL ASSESSMENT.
3. PSYCHOMETRIC FOUNDATIONS OF BEHAVIORAL ASSESSMENT (Hoi K. Suen and Sarah E. Rzasa).
4. LEARNING AND APPLIED BEHAVIOR ANALYSIS: FOUNDATIONS OF BEHAVIORAL ASSESSMENT (William T. O'Donohue and Kyle E. Ferguson).
5. BROADLY BASED CAUSAL MODELS OF BEHAVIOR DISORDERS (William H. O'Brien, Mary E. Kaplar, and Jennifer J. McGrath).
6. CONCEPTUAL FOUNDATIONS OF BEHAVIORAL ASSESSMENT STRATEGIES: FROM THEORY TO ASSESSMENT (Georg H. Eifert and Matthew T. Feldner).
7. PRINCIPLES OF BEHAVIORAL OBSERVATION (Donald P. Hartmann, Billy A. Barrios, and David D. Wood).
8. INDIVIDUAL DIFFERENCES AND BEHAVIORAL ASSESSMENT (Junko Tanaka-Matsumi).
SECTION THREE: METHODS OF BEHAVIORAL ASSESSMENT.
9. NATURALISTIC OBSERVATION OF RELATIONSHIP PROCESSES (Thomas J. Dishion and Isabela Granic).
10. ANALOGUE BEHAVIORAL OBSERVATION (Richard E. Heyman and Amy M. Smith Slep).
11. CLINICAL INTERVIEWING (Krista A. Barbour and Gerald C. Davison).
12. SELF-REPORT QUESTIONNAIRES (Rocı´o Ferna´ndez-Ballesteros).
13. COMPUTERS IN THE TRAINING AND PRACTICE OF BEHAVIORAL ASSESSMENT (David C.S. Richard and Dean Lauterbach).
14. PROGRAM EVALUATION (Katherine M. McKnight and Lee Sechrest).
SECTION FOUR: APPLICATIONS OF BEHAVIORAL ASSESSMENT.
15. BEHAVIORAL ASSESSMENT IN THE MEASUREMENT OF TREATMENT OUTCOME (Giao Q. Tran and Joshua P. Smith).
16. BEHAVIORAL ASSESSMENT OF CHILDREN IN OUTPATIENT SETTINGS (Sarah E. Francis and Bruce F. Chorpita).
17. BEHAVIORAL ASSESSMENT OF PSYCHIATRIC PATIENTS IN RESTRICTIVE SETTINGS (Mark R. Serper, Brett R. Goldberg, and Kurt Salzinger).
18. ASSESSMENT IN WORK SETTINGS (Kevin R. Murphy).
19. THE APPLICATION OF BEHAVIORAL ASSESSMENT METHODOLOGIES IN EDUCATIONAL SETTINGS (Elisa Steele Shernoff and Thomas R. Kratochwill).
20. BEHAVIORAL NEUROPSYCHOLOGY (Michael D. Franzen).
21. CASE FORMULATION IN COGNITIVE-BEHAVIOR THERAPY (Arthur M. Nezu, Christine Maguth Nezu, Michelle A. Peacock, and Candace P. Girdwood).
22. BEHAVIORAL ASSESSMENT IN THE ERA OF MANAGED CARE: UNDERSTANDING THE PRESENT, PREPARING FOR THE FUTURE (Kirk D. Strosahl and Patricia J. Robinson).
SECTION FIVE: INTEGRATION BETWEEN BEHAVIORAL AND NONBEHAVIORAL ASSESSMENT METHODS.
23. PROJECTIVE TECHNIQUES AND BEHAVIORAL ASSESSMENT (Howard N. Garb, Scott O. Lilienfeld, and James M. Wood).
24. BEHAVIORAL ASSESSMENT AND THE DSM SYSTEM (Rosemery O. Nelson-Gray and James F. Paulson).
SECTION SIX: CONCLUSION, SUMMARY, NEW DIRECTIONS.
25. BEHAVIORAL ASSESSMENT: SOMETIMES YOU GET WHAT YOU NEED (Eric J. Mash and John Hunsley).
Author Index.
Subject Index.