Comprehensive Handbook of Social Work and Social Welfare, Volume 1, The Profession of Social Work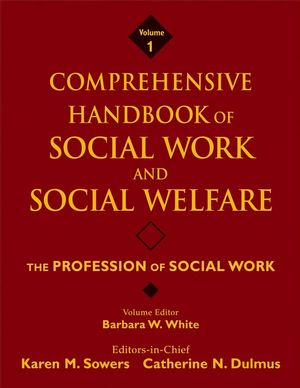 Comprehensive Handbook of Social Work and Social Welfare, Volume 1, The Profession of Social Work
ISBN: 978-0-470-24676-4
May 2008
500 pages
Description
Comprehensive Handbook of Social Work and Social Welfare, Volume 1: The Profession of Social Work features contributions from leading international researchers and practitioners and presents the most comprehensive, in-depth source of information on the field of social work and social welfare.
Handbook Preface.
Karen M. Sowers.
Catherine N. Dulmus.
Volume Prolusion.
Barbara W. White.
Contributors.
1. The History of Social Work and Social Welfare.
Leslie Leighninger.
2. Educating for Social Work.
Julia M. Watkins.
Jessica Holmes.
3. The Scope of Social Work Practice.
June G. Hopps.
Tony B. Lowe.
4. Professional Credentials and Professional Regulations: Social Work Professional Development.
Donna DeAngelis.
Mary Jo Monahan.
5. Social Work Organizations.
Gary Lowe.
Terry Singer.
6. Values and Ethics for Professional Social Work Practice.
Kimberly Strom-Gottfried.
7. The Strengths Perspective: Putting Possibility and Hope to Work in Our Practice
Dennis Saleebey.
8. Child Welfare: Historical Trends, Professionalization and Workforce Issues.
Robin E. Perry.
Alberta J. Ellett.
9. Family-Based Practice.
Barbara Thomlison.
10. School Social Work.
Cynthia Franklin.
Beth Gerlach.
Amy Chanmugam.
11. Substance Abuse.
Lori K. Holleran Steiker.
Samuel A. MacMaster.
12. The Mental Health Field of Practice.
King Davis.
13. Healing the Disjuncture: Social Work Disability Practice.
Elizabeth DePoy.
Stephen Gilson.
14. Gerontology: A Field of Practice.
Roberta R. Greene.
Namkee Choi.
15. Forensic Social Work: Current and Emerging Developments.
Katherine van Wormer.
Albert Roberts.
David W. Springer.
Patricia Brownell.
16. International Social Work.
Doreen Elliott.
Uma A. Segal.
17. Immigrant and Indigenous Populations: Special Populations in Social Work.
Jon Matsuoka.
Hamilton I. McCubbin.
18. Diversity.
Iris Carlton-LaNey.
19. Social and Economic Justice.
Tricia B. Bent-Goodley.
20. Putting Evidence-Based Practice into Practice.
James G. Barber.
21. Making Social Work Practice More Scientific.
Allen Rubin.
22. Issues in Social Work.
Stanley I. Witkin.
Roberta Rehner Iversen.
""The Comprehensive Handbook of Social Work and Social Welfare is an outstanding contribution to social work literature. The Handbook offers a unique and practical view of social work. We recommend that all academic libraries adopt this volume. Social work professors need to review it. These volumes will make significant contributions to student learning."" (Journal of Social Work Values and Ethics, Spring 2009)