Comprehensive Neurology, 2nd Edition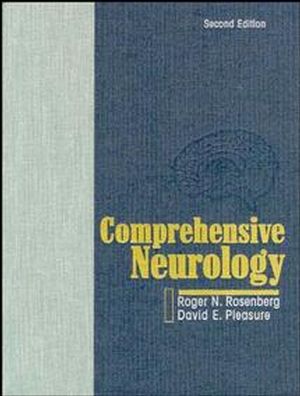 Comprehensive Neurology, 2nd Edition
ISBN: 978-0-471-16958-1
May 1998
960 pages
Description
Since the publication of the first edition in 1991, there have been many important advances in basic neuroscience and neurology. This book is a text-reference that integrates basic neurobiologic information wherever possible to provide a scientific understanding of the pathogenesis of disorders and a clear rationale for their treatment.
Molecular Neurology: Neurology of the Twenty-First Century (R. Rosenberg, & D. Pleasure).

Neurological Disorders of the Newborn (V. Miller).

Genetic Neurological Diseases (R. Rosenberg & S. Iannaccone).

Cerebrovascular Disease (K. Irie, et al.).

Cerebrovascular Disorders in Children (A. Riela, & E. Roach).

Intracranial Neoplasms (R. Packer, et al.).

Excitotoxicity: Pathophysiology and Prevention (D. Pleasure).

Disorders of Brain Fluids and Electrolytes (G. Rosenberg, & L. Wolfson).

Infections of the Central Nervous System (L. Davis, & W. Reed).

Headache Syndromes (F. Cutrer & M. Moskowitz).

Epilepsy (M. Dichter & J. Buchhalter).

Diseases of the Extrapyramidal System (M. DeLong & J. Juncos).

Cerebellar Disorders (S. Gilman).

Disorders of Higher Brain Functions (D. Tranel & A. Damasio).

Metabolic Encephalopathy (R. Barbano & R. Griggs).

The Comatose Patient (D. Levy).

Sleep and Arousal Disorders (D. Wagner).

Neuroendocrinology (P. Cooper & J. Martin).

Neuro-Ophthalmologic Diseases (S. Wray).

Neuro-otologic Disorders: The Vestibular System (R. Baloh).

Diagnostic Principals in Neuro-otology: The Auditory System (B. Troost, & M. Waller).

Diseases of the Cranial Nerves and Brainstem (D. Solomon).

Diseases of the Spinal Cord (M. Aisen & M. Selzer).

Diseases of the Autonomic Nervous System (J. Stewart ).

Diseases of the Peripheral Nervous System (J. Griffin, & T. Ho).

Myasthenia Gravis (A. Penn).

Diseases of Muscle (A. Litvak, et al.).

Multiple Sclerosis and Other Demyelinating Disorders (T. Vollmer, et al.).

Neurological Problems of Pregnancy (J. Pleasure).

Neurotoxic Syndromes (R. Richter, et al.).

Neurobiological Bases for Psychiatric Disorders (A. Rush, et al.).

Index.